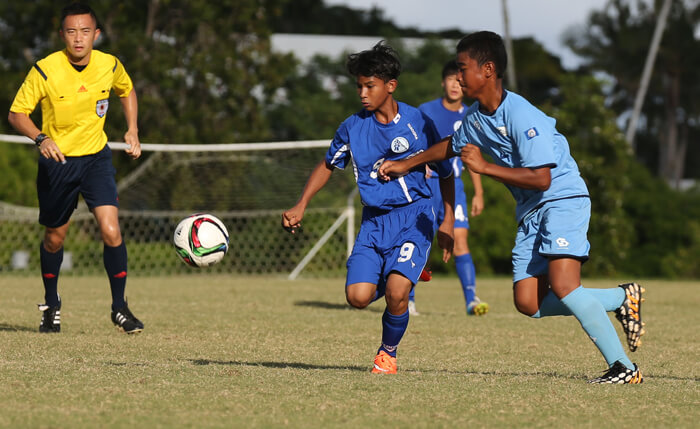 01 Mar

EAFF U13 international festival promotes football development

[November 9, 2015 – Yona, Guam] Providing young athletes an avenue to gain invaluable international football experience, as well as promoting overall football development are at the heart of the EAFF East Asian U13 2015 Festival of Football at the LeoPalace Guam Resort.

The event, which features teams from Guam, Chinese Taipei, DPR Korea, Hong Kong, and Northern Mariana Islands, officially opened Sunday. As the main purpose of the event is development, no official scores are reported and all players on each team's eligible rosters are required to play in all of their respective matches.

"One of the main objectives of competing in this festival with visiting countries in the region is to get our players playing at a higher level than what they're used to locally," said Rod Hidalgo, head coach for the Guam U13 national team. "The festival really gives them some international football experience that they will need as they continue to move up through Guam's national program.

"The experience they gain at this festival will hopefully get them playing at higher levels more consistently, improve their individual skills and get them thinking faster in the game, understanding the game better. If each player can honestly see an improvement in their game – be at least 30 percent better than they were before the festival – and still have the drive and passion to improve further and to continue playing at higher levels – I'll be happy as a coach. Scoring goals and earning wins in this particular festival are just bonuses," Hidalgo added.

Guam's team received a few bonuses in the first two days of play, including three for Jonathan Sevilla in Guam's Day 2 derby with Northern Mariana Islands and one each for Niclas Vavra and Ryan Kent in the same contest. Sevilla, called up to a Guam youth national team for the first time, entered as a substitute in the team's two matches on opening day and later earned a starting spot against NMI on Day 2.

"I was really surprised I was able to score those goals," said Sevilla, who plays for the ASC Trust Islanders in the Triple J Auto Group Robbie Webber Youth League. "I felt proud of myself for helping the team. I think we did well against NMI – we kept possession of the ball most of the time, we connected on long passes to the wings to set up scoring opportunities, and we defended well.

"The festival so far has been a great experience – we've played against some good teams. Through the festival, we can also gauge where we should be (technically and tactically) to be more competitive in future international tournaments," Sevilla added.

The three-day festival concludes today.