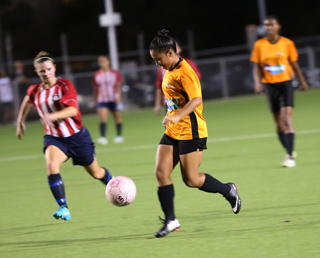 21 Nov

Doosan Lady Crushers Win Fall Season Title

The Doosan Lady Crushers' undefeated streak extended into the final match of the Bud Light Women's Soccer League fall season with a 3-1 victory over the Paintco Lady Strykers to claim championship honors at the Guam Football Association National Training Center.

The Lady Crushers regained its soccer dominance in the fall season, outscoring its opponents 21-6 in the regular season and 6-1 in two playoff matches for its sole championship in 2013 after sweeping all women's titles, including the Beck's Women's GFA Cup, in 2012.

The winning team capitalized on its speedy wingers from the opening whistle, which was delayed by 15 minutes due to a power outage. Colleen Naden opened scoring with a goal from the right side in the 7th minute that hit the crossbar and bounced in the goal behind Lady Strykers first-half keeper Sonja Sanchez. A little over five minutes later, Maria Abbey Iriarte drilled a long-distance shot that also nipped the crossbar and bounced into the goal to put her team up 2-0. By the 15-minute mark, the Lady Crushers had already collected five corner kicks from the Lady Strykers defense.

The Lady Strykers finally buckled down to shut down their opponents for the rest of the half, while testing Lady Crushers keeper Mya Sanchez with shot opportunities of their own.

The Lady Crushers didn't score its third goal until the 77th minute when Skyylerblu Johnson took a quick, close-range shot as Lady Strykers' second-half keeper Gesualda Gonzalez was trying to secure the ball. The Lady Strykers' lone goal came in the 90th minute when Koharu Minato finished a cross from Alexy Barbe.

In the battle for third place, the Lady Rovers avenged a loss to Quality Distributors in the regular season, winning 4-2. The Lady Rovers earned two quick goals from Melissa Elwell and Niki Perkins by the eighth minute. Quality slowly clawed back into the game minutes later. In the 23rd minute, the league's Golden Boot winner Kayla Kinney found room near the goal to maneuver around Lady Rovers defender Gajee Turner and sent her shot past keeper Cara Walsh. A little over 10 minutes later, a long-distance shot from Paige Surber leveled the game.

The Lady Rovers gained the upper hand again 10 minutes into the second half when Perkins ran up the right flank and passed the ball off to Elwell for the finish. With Quality attackers continuing to push for the equalizer throughout the half, the Rovers finally earned breathing room in the 87th minute. Quality defenders stopped Elwell on the right flank to deny her a hat trick, but Susan Lupola followed up on the play for the final score.