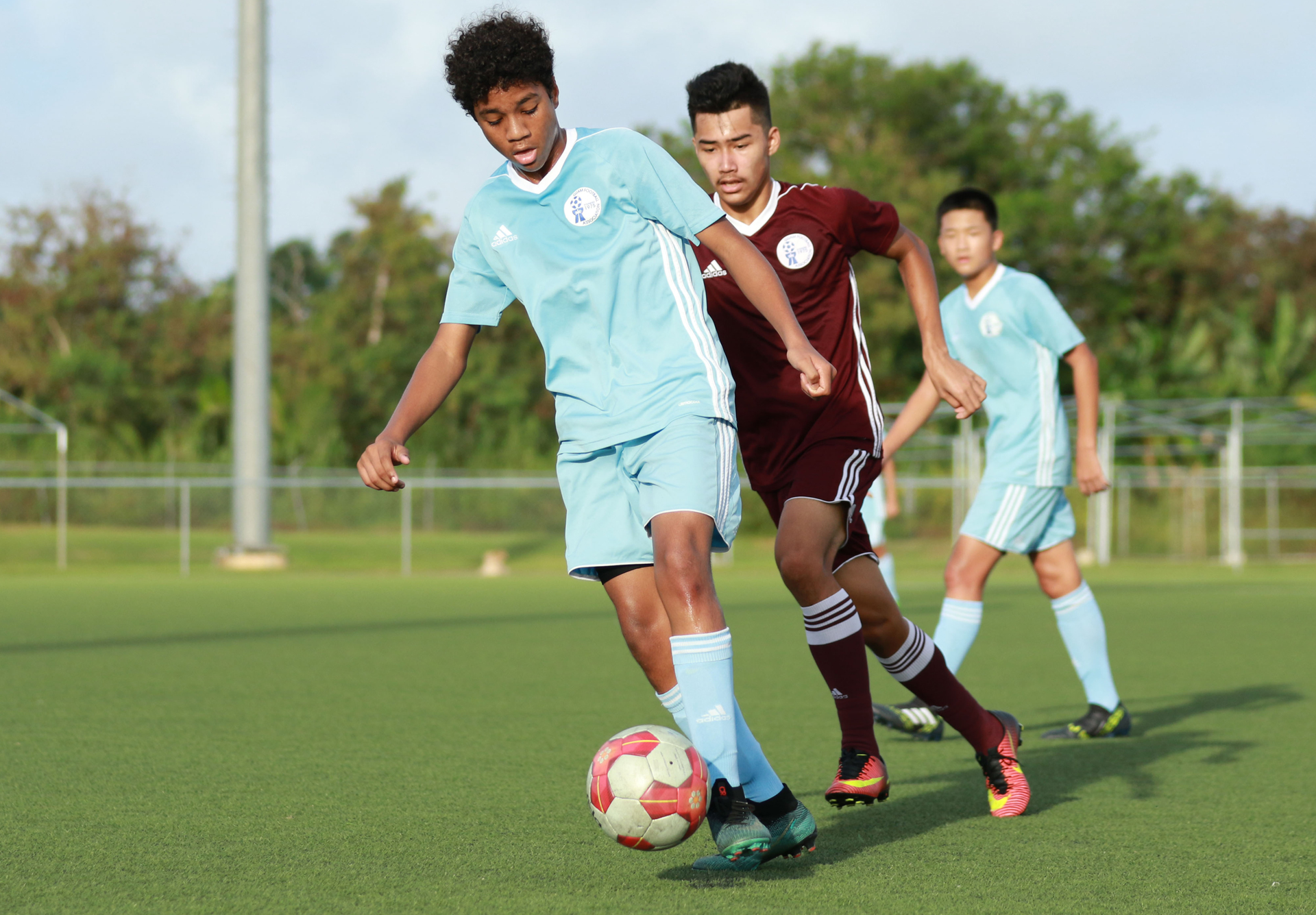 21 Mar

Dodd stresses importance of experience, production line

[July 30, 2018 – Harmon, Guam] As Head Coach of the Matao, one of the most important things is to ensure that there is a continual production line of players progressing through the national team pathway that is educated in playing football.

Let me define educated first before I come back to the importance of the production line. Educated means that throughout the pathway they have achieved all the milestones of the GFA long-term player pathway. This pathway coupled with the GFA football playing style, which is a total 180 degrees to the previous playing style of counter attacking football, being reactive, and trying to mitigate score lines at younger ages, rather than implementing a proactive football style which looks to take the game to the opponent – "Live on our feet, rather than die on our knees". This approach takes time to master and is foreign to a lot of coaches and parents on the island as they may not have ever been through this process of short term pain for long term gain regarding football development.

In this new playing style players will make mistakes during a match and be punished for them, but they will learn from these mistakes as long as the right environment is setup for them to make their own mistakes and provide reflection and analysis as to what they can do better to solve that problem.

Problem solvers is what we are trying to create and the benefits from this approach are realized in older age groups. This is the cornerstone of our new coach education programs, in which we as an island can all contribute towards the betterment of football on Guam.

Our national team program consists of an environment that fosters optimal performance. The culture, values, and expectations are all geared around producing people and players that Guam can be proud of, players that leave the shirt in a better place.

The U15 EAFF tournament has been a fantastic learning opportunity for the players in which we set out 4 objectives for this tournament:
Implement our playing style with a focus on operating as 11 players working in synchronization in attack and defense at the highest intensity possible
Gain experience in an international tournament
Understand the processes surrounding tournament play
Demonstrate our culture, values, and expectations at all times.
The players have made considerable progress in the 3 months of full-time training prior to this tournament and have really grown in the tournament. The way they have handled their fears about playing nations such as Korea Republic and DPR Korea will only leave them in a better place next time they are faced with such adversaries. There was progress in understanding the importance of being in the contest for the whole match and being brave and playing football rather than panicking and kicking it long to the opposition. The resilience they have shown after each costly mistake to continue to play football and search for a goal has been the most pleasing.
The questions during analysis, half time, full time, and meal times regarding problem solving has been awesome to watch as they start to identify cues that can lead them to the right answer with the coaches acting as facilitators, to the players actually teaching each other what should happen is the biggest sign of maturity of a player and a team…these players are 12 to 15 years old…the future is looking bright.
To better prepare our players for these tournaments, we need to create competitive opportunities with camps in Japan, Korea or the like so that certain performance barriers are removed prior to these International tournaments.
So, finally to why the production line of players is so important. Pressure…Pressure from within the Matao and pressure from below from the U23 age group on places in the Matao. Something that I have observed is a sense of entitlement based on a small population size and lack of production line.
With a consistent production line of quality players that progress through the ranks of the national team programs forces a greater sense of competition for spots when they reach the Matao, subsequently raising the level of performance. As long as there is an objective and criterion-based selection policy for the Matao, then the best performing players will play, regardless of stature, location, club played for or the other.
The operating environment of the national teams ensures that attitudes and behaviors not conducive to optimal performance are removed. The landscape has now changed with a long-term strategy that should see ALL the Guam national teams at full capacity by the end of this 4-year cycle (2019-2022).
This tournament was used to expose the players to international football in preparation for 2019 in which the players born 2003 graduate to the U19 group and the players born 2004 and 2005 graduate to the U16 group which both have Asian Football Cup qualifiers in September 2019.
The "future" was our goal in this tournament with Guam having the youngest group by a mile; 7 players born 2003, 12 players born 2004, and 1 player born 2005, whilst the other teams had predominantly 2003 born players.
The good news is that these players are learning to play a style of football that is comparative to the top teams in Asia, and the World. A proactive and effective possession-based brand of football that requires skill, intelligence, hard work, and team work. Something that is enjoyable for all; players to play in, coaches to coach, and spectators to spectate.
Whilst we are in our infancy, the future for Guam football definitely looks bright. Congratulations to the Guam U15 boys and their parents, along with the staff on their efforts and application prior to and during the U15 Tournament. Let's keep the momentum going.
Written by Karl Dodd