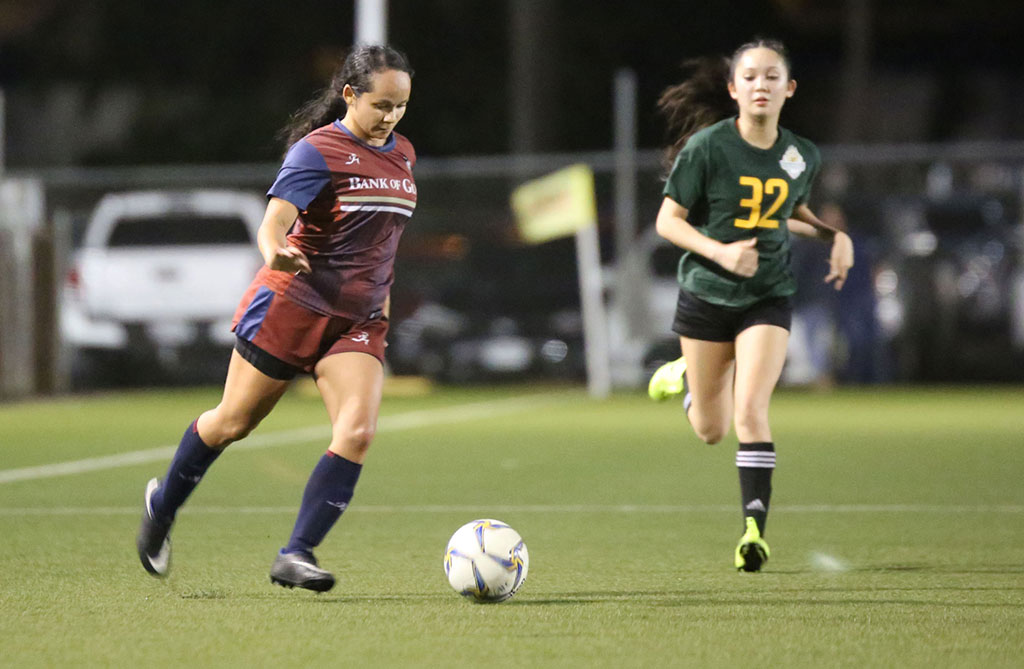 18 Nov

Defending Champs Lady Strykers Win Premier Opener

[November 18, 2019 – Harmon, Guam] Defending champions Bank of Guam Lady Strykers outlasted the University of Guam Lady Tritons 3-2 in an opening week match of the Bud Light Women's Soccer League Premier Division Sunday at the Guam Football Association National Training Center.

The Lady Strykers were off on the right foot with a pair of goals from Jinae Teria to lead 2-0 going into halftime; however, despite the deficit, the Lady Tritons continued its attacking strategy in the deciding half. UOG managed to draw key fouls in the box to set up a pair of penalty kicks buried by Zoe Surber in the 51st and 62nd minutes to level the match.

The Lady Strykers' Maggie Phillips scored the eventual game winner on a free kick in the 65th minute.

UOG, runner-up in the league's Amateur Division in the 2018-2019 season, strengthened its roster by recruiting two former Premier Division Golden Boot winners Colleen Naden and Brianne Leon Guerrero in the off-season; however, the Lady Strykers defense managed to close down both players for 90 minutes.

In other matches, Heavy Hitters/Nutrition Mission Heat slipped past 2019 Jamaican Grill Women's GFA Cup champions Guam Shipyard Women 3-2, with Carmela Tyquiengco scored the eventual game winner in the 71st minute. Last season's Golden Boot winner, Alexandra Shimasaki contributed one for the winning team and teammate Marlena Connelley also scored. Shyann Roberto and Taylor Crisostomo scored for Guam Shipyard Women.

In the opening game of the day, Quality Distributors avenged a Round 1 defeat to the Islanders FC in the Women's GFA Cup, winning 6-4. Franshay Shippey was credited with a hat trick in the win and teammates Randi Jo Paulino, Caylani Estoy, and Alisia Barcinas also scored. Jadyn Palomares and Ava Ramos each scored twice for the Islanders FC.

The women's league continues Sunday with matches in both the Premier and Amateur Divisions at GFA.