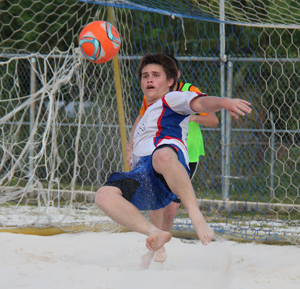 19 Dec

Defending Champion Quality Lone Undefeated Team in Beach Soccer

Defending champions Quality Distributors will enter Week 3 of the Land Shark Beach Soccer League as the lone undefeated team.

After a pair of wins in Week 1, Quality (3-0) next handed the Crushers FC Orange (2-1) its first loss of the season, winning 9-4 in Week 2 play. Scott Spindel and Jan-Willem Staman led the Quality attack with four goals each. Mark Chargualaf also scored for Quality.

Jon Odell contributed a hat trick for the Crushers FC Orange and Jason Martin scored the team's other goal.

The Crushers FC Orange bounced back in its next match of the day, edging the Paintco Strykers 10-9. The Strykers' Stanley Rice launched a shot from near mid-court that hit the back of the net, but it was called off as match referees deemed the final whistle was blown before the shot attempt.

Odell led the Crushers Orange FC with his second hat trick of the day, and teammates Martin and Kevin Tainatongo scored twice each. Justin Samonte and Ryan Shipman also scored. The Crushers FC Orange's other goal came on a Strykers own goal.

Shawn Spindel scored four goals to lead the Strykers (2-1). Ryota Nault scored twice and Hiro Asoshina, FJ Chargualaf, and Yaw Antwi-Agyei each scored once.

In other matches, Doosan FC defeated the Crushers FC White 11-5, led by Anthony Manibusan's five goals. Cheyne Robles scored four and teammates Luis Quichocho and Allan Angoco scored one each. Ajay Pothen and Camden Aguon scored twice each for the Crushers FC White and Joshua Pangelinan scored once.

In the day's early game, the Strykers defeated Doosan FC 16-9, led by Shawn Spindel's double hat trick. Nault contributed a hat trick and teammates Chargualaf and Yaw each scored twice. Asoshina and Rice also scored in the contest. The Strykers' other goal came on a Doosan own goal.

Manibusan led Doosan with a hat trick and teammates Robles and Felix Fontanilla each scored twice. Quichocho and Francisco Zapata-Rolon also scored.
Shawn Spindel currently leads the Golden Boot race with 14 goals following his 10-goal haul in Week 2. Doosan FC's Anthony Manibusan is next on the list with 13 goals followed by Scott Spindel, Shawn's brother, with 12 goals.

Week 3 will feature Quality and the Strykers beginning at 2 p.m. Sunday, followed by the Crushers FC White taking on the Crushers FC Orange at 3 p.m. After a few minutes break, the Crushers FC White play again with a match against Quality. The Crushers FC Orange play the final match of the day against Doosan at 5 p.m.