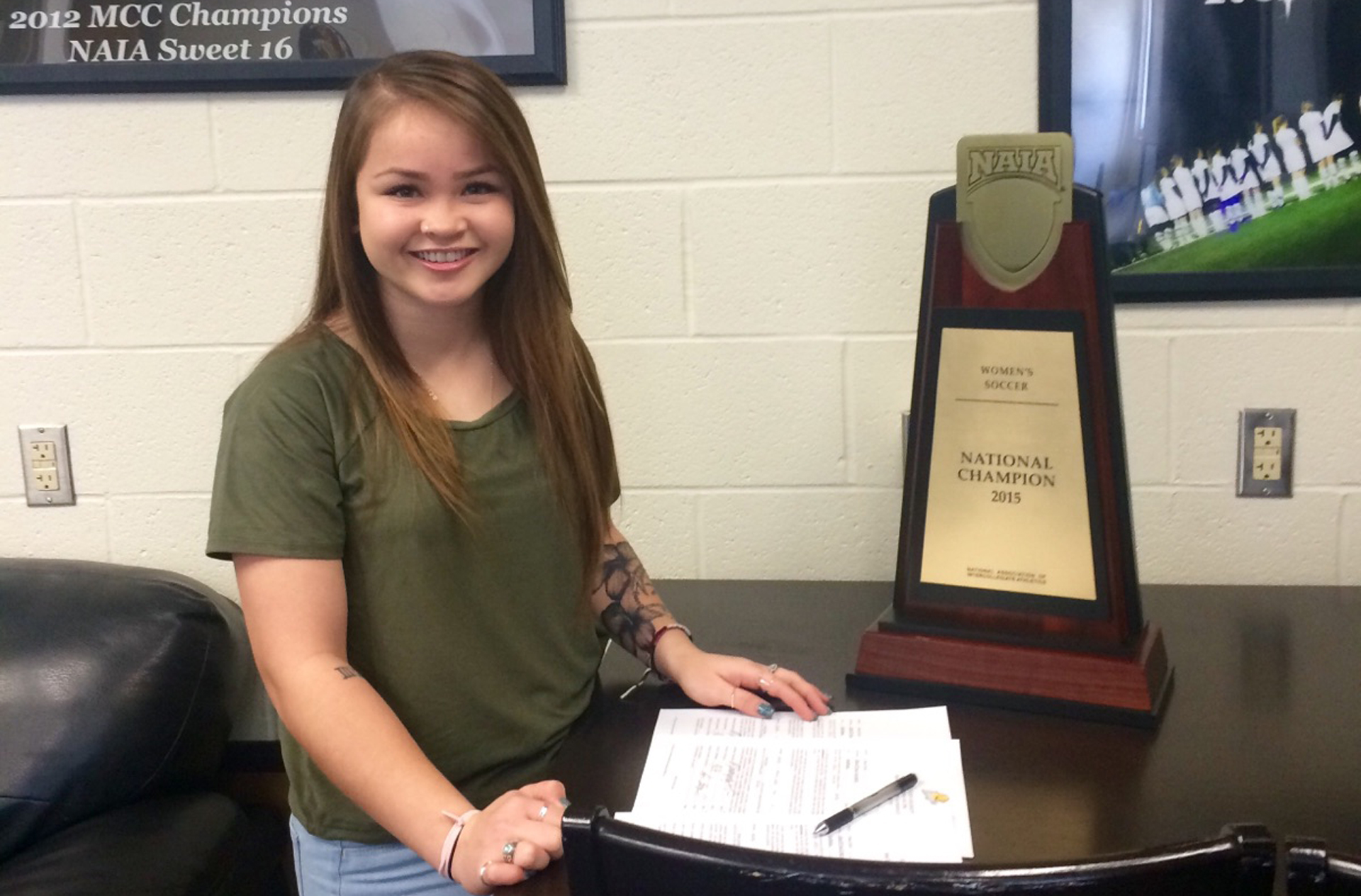 18 Feb

Current NAIA Women's Soccer Champs Sign Guam's Surber

[March 10, 2016 – Harmon, Guam] – The 2015 NAIA Women's Soccer National Champions, the Spring Arbor University Cougars, have added Guam's Paige Surber to their roster in preparation for their title defense beginning Fall 2016.

The Cougars capped a banner season with its first-ever national championship win, boasting five shutouts in five matches and outscoring opponents 12-0 en route to the NAIA Women's Soccer crown. Surber, currently a student at Highline College in Des Moines, Wash., was offered an athletic scholarship to play for the Cougars during a trial visit to Michigan earlier this month.

"It was such an amazing feeling to commit to playing for such a great university with a championship-caliber soccer team," Surber, 21, said via telephone from Washington. "It was so overwhelming for me – I was more than excited for the opportunity. It felt like a big weight had been lifted off of my shoulders knowing where I would be going after finishing my two years at Highline. I knew I wanted to continue playing at a higher level and I'm extremely happy with my decision to move on to Spring Arbor. I was able to see firsthand how all the hard work I put in with coaches, trainers, and teammates over the years really paid off.

"I will work hard to make the most of this valuable opportunity presented to me in hopes that this will also open doors for other girls from Guam to play soccer in college," added the 2013 Southern High School graduate.

Surber's seamless transition from high school soccer to intercollegiate soccer included making the Northwest Athletic Conference Western Region team and finishing as a top 10 player in the conference based on season statistics in her maiden season at Highline. Surber finished with 16 goals and five assists, eighth in the conference and third on her team, the NWAC Web site states.

Highline assistant coach, Chris Wells, introduced Surber to Jason Crist, head coach at Spring Arbor. After the introduction, Surber and Crist continued communicating and eventually worked to set up a visit to the Michigan campus. While at the campus, she participated in training sessions with the team and with recruits who had already signed to play for the school. Surber officially signed to accept an athletic scholarship from the university on Mar. 4. The university announced the signing on its Web site and social media earlier this week.

"Being awarded an athletic scholarship to play soccer for the defending NAIA national champions is an outstanding accomplishment for Paige – let alone anyone in the U.S. – and I couldn't be any prouder of her," said Gary J. White, GFA Technical Director. "She has helped Guam internationally in competition, performed extremely well in her first season playing intercollegiate soccer, and accumulated so many awards in the sport from her youth days. This is just the next step for her in what I think will lead her to achieve even more.

"This is testament to the increasing strength of GFA's national program. I know with the hard work of more young soccer athletes now, especially the ones in the United Airlines GFA National Academy, more players from Guam will be afforded opportunities like the one presented to Paige," White added.

Surber started playing soccer when she was five years old with the Southern Cobras and when she became age eligible, began playing for the Quality Distributors FC women's team. Surber consistently earned the Bud Light Women's Soccer League Golden Boot award, including her final year with the team in 2013 by scoring 17 goals in seven games during the Spring season.

Surber also has been consistently called up to play for the Masakåda, Guam's women's national soccer team, most recently for the EAFF Women's East Asian Cup semifinal round in 2014 in Chinese Taipei. Surber helped the Masakåda qualify for the semifinal round by scoring six goals in two matches during the tournament's preliminary competition held in Guam earlier that year.

In the interscholastic realm, Surber is a two-time IIAAG High School Girls Soccer League MVP, leading the Southern High School Dolphins to two consecutive championships her junior and senior years.

After completing two seasons with Highline, Surber has two years left of eligibility with Spring Arbor. Surber, a physical therapy major, is the first international player to be signed by the Michigan university.

"I'd really like to thank everyone at GFA, namely President Richard Lai, George Lai and all the executives, Gaffer (White), Cheri (Stewart), and Quality coach Gianna (Tenorio), as well as the Southern Cobras community, Quality Distributors, the Masakåda, Highline – all of my coaches and teammates over the years who've helped me grow as a player and as a person," Surber said. "I'd also like to thank my family – my older brother Ashton who I look up to, my siblings, and my parents, especially my mom (Louvana). They are all my support system, people who've never left me and continue to push me to achieve more."

Paige Surber is the third of seven in her family from Agat. She has two older brothers – Ashton and Cristian, three younger brothers – Keith, Seth, and Luke, and one younger sister, Zoe. She has a grandfather and an aunt who both live in Michigan.