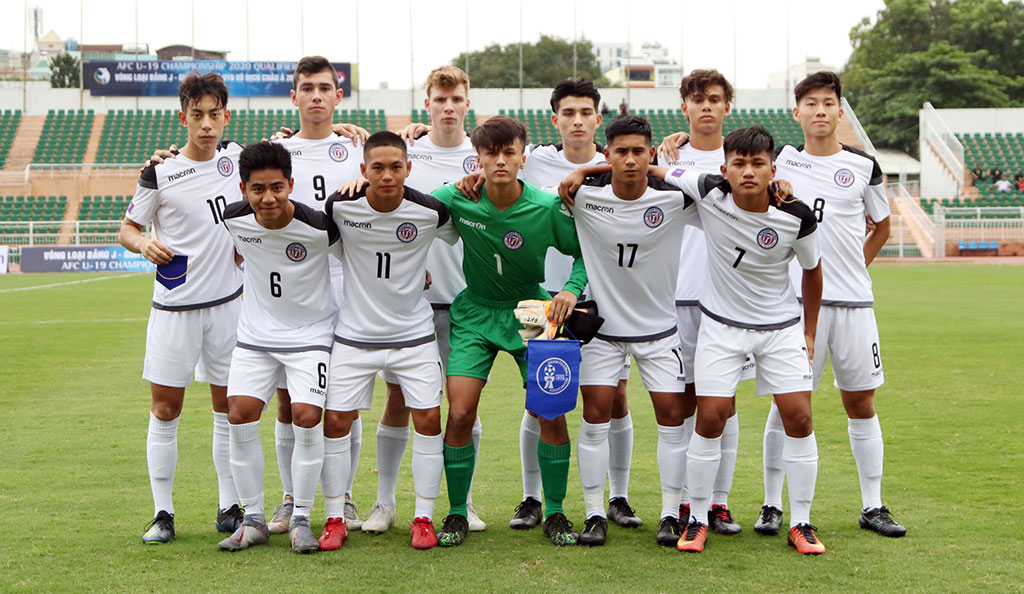 07 Nov

Cultural Shift Needed for Guam Football Development

[November 7, 2019 – Ho Chi Minh City, Vietnam] A shift in mindset toward proper elite football player development and increased, collaborative support through Guam's developmental phase are key ingredients to future success against higher-ranked opponents with longer histories in the game.

Japan, one of Asia's football powerhouses expected to qualify for the FIFA U20 World Cup for a third-straight time and continental champions in 2016, outclassed Guam 10-0 in an opening day match of the AFC U19 Championship Qualifier's Group J in Ho Chi Minh City, Vietnam Wednesday afternoon.

"The biggest difference was the gulf in standards between the two teams," said Karl Dodd, Guam U19 National Head Coach. "From a technical, intensity, and mental point of view, (Japan) were so much more superior over the course of 90 minutes. There were moments where we were able to match them, but nowhere as consistently enough for us to seriously challenge for a win. Japan has been operating far longer than Guam and is one of the leaders in Asia – if not the world – in their player development programs."

Guam's team limited Japan to three goals in the first half, while finding some strides to set up opportunities, but Japan's players with more collective high-level football experience shaped the final result.

Soromon Sakuragawa and Hidetoshi Takeda each finished with hat tricks and teammate Shun Ayukawa scored twice. Hijiri Kato and Misaki Haruyama scored Japan's other goals.

"The belief or mentality is a key area for development – I don't think we back ourselves enough to match it or compete for every moment in the match," Dodd said. "This stems from a severe lack of exposure to high-level football; it starts with the domestic league on island needing to be far more competitive, to the national teams being able to play more often. This is hard due to finances, teams training on a regular basis with qualified coaches, and being taught the fundamentals of the game. Facilities are also an issue and Guam Football Association is looking to rectify this with new facilities to be built in the coming years, which will definitely help.

"GFA provides free coaching and referee courses available for all which need to be taken advantage of. There is a strategic plan in place and progress is being made, but I believe we can speed this process up if we all start working together on the island and improving the standard of soccer. It is going to take time but we need to keep moving forward," added Dodd.

With the toughest match in the tournament behind them, Guam's team will be assessed by improvements made in upcoming matches. Guam will next face the host country Friday evening at 7 p.m. Vietnam time (10 p.m. Guam time) and will play its final match against Mongolia Sunday at 4 p.m. Vietnam time (7 p.m. Guam time). Vietnam defeated Mongolia 3-0 in the tournament's other opening-day match.

Matches are available to watch via Internet Live Steam on the Vietnam Football Federation's official YouTube page: https://www.youtube.com/VFFChannel

Guam's starting 11 players against Japan pose for a group photo ahead of their match on opening day of the AFC U19 Championship Qualifier Group J in Ho Chi Minh City, Vietnam on Wednesday. In the photo, front row, left to right are Anthony Quidachay, Matt Iseke, Alexander Stenson, Micah Hennegan and Kris Fernandez. In the back row, from left to right, are Graysen Garber, Jacob McDonald, Ethan Elwell, Taiga Simon, Morgan McKenna, and Kyle Halehale.

Guam's Graysen Garber attempts to advance the ball through the defense of Japan's Hidetoshi Takeda (22) and Nagi Matsumoto (5) on an opening day match of the AFC U19 Championship Qualifier Group J in Ho Chi Minh City, Vietnam on Wednesday. Guam fell to Japan 10-0. Photo courtesy of the Vietnam Football Federation.