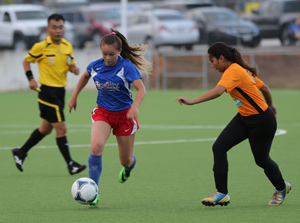 20 Nov

Crushers, Shipyard to Play for First in Week 12

Guam Shipyard and the Doosan Lady Crushers will face off in one of the most anticipated matches of the Bud Light Women's Soccer League at 3:30 p.m. Sunday at the Guam Football Association National Training Center.

The Lady Crushers (7-2) will be gunning for a win in its Week 12 match against the current league leaders for the No. 1 spot, while Shipyard (8-1) will need at least a draw to stay in its spot on top of the leaderboard. In the teams' first meeting this season, Shipyard eked out a 3-2 victory against a short-handed Lady Crushers team in Week 3 of the league.

Shipyard officially took the No. 1-ranked position in Week 7 and has since held its place, topping the Lady Crushers in the standings solely based on the two teams' head-to-head result.

The Lady Crushers' Week 11 loss to Quality Distributors (6-2-2) put additional distance between them and Shipyard, but not enough breathing room with three more weeks left in the league. Quality, also still in the hunt for the top spot in the league, defeated the Lady Crushers 4-1 in a Week 11 match. Sabrina Wiegand scored twice for Quality and teammates April Talledo and Paige Surber also scored. Skyylerblu Johnson scored the lone goal for the Lady Crushers.

Surber currently leads the race for the Golden Boot, scoring 21 goals in 10 matches. Of Surber's 21 goals, 12 came in Quality's last four matches.

In other Week 11 matches, a late goal from Hyundai's Ashley Besagar forced a 1-1 draw with the Lady Rovers. Kyung Shipman scored for the Lady Rovers.

The Paintco Lady Strykers defeated Pika Soccer Club 3-0 with two goals from Francesa Pangelinan and one from Kimberly Sherman.

The Lady Strykers will next play the Lady Rovers at 7:30 p.m. Sunday. Quality will take on Pika at 5:30 p.m., following the Shipyard-Lady Crushers' 3:30 p.m. match. The community is invited to watch the upcoming Bud Light Women's Soccer League matches, all played on GFA's upper turf pitch. There is no admission fee to watch the matches.