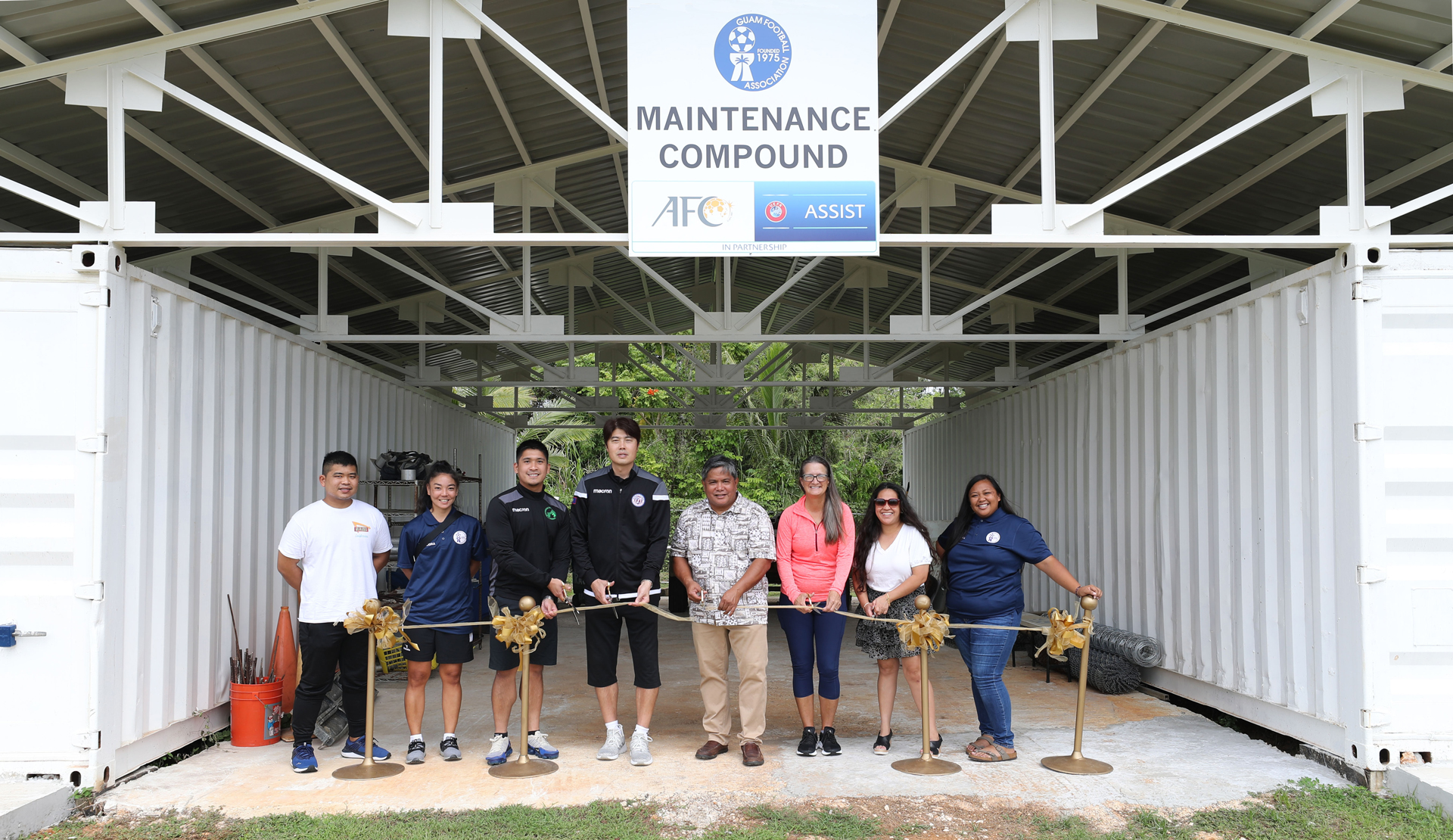 19 Jul

Construction completed for GFA Maintenance Compound

[July 16, 2021 – Harmon, Guam] Guam Football Association continues with upgrades to its National Training Center facility in Harmon with the construction of a dedicated maintenance compound near the UA-3 mini pitch, thanks to grants from UEFA Assist and AFC.

"On behalf of GFA, I would like to thank UEFA Assist and AFC for providing a financial grant to aid us in realizing this project, which will create a safer and more enjoyable environment for staff and visitors at the GFA National Training Center," said Valentino San Gil, GFA President. "Our maintenance crews also now have a dedicated space as they work year-round to keep the facility in top shape. This comes at an ideal time as we are starting to welcome more leagues and training activity at GFA after a year-long pause due to the pandemic."

The new maintenance compound includes two storage units of about 67 cubic meters in capacity each and a garage, with one unit donated by Matson. The grant from UEFA Assist also included the purchase of a new mule vehicle for daily maintenance operations.

Previously, a small maintenance storage area was situated near the facility's futsal courts, which is generally a high foot traffic area during busy league seasons. In its place, bleachers will be installed for the futsal pitches. Thanks to a generous donation from Smithbridge of concrete, as well as labor services from Liang Corporation, this new seating area will be ready for future leagues and activities utilizing the turf futsal pitches.

According to the UEFA Web site, the European sports organization launched its Assist program in 2017, with the objective "to share the experience and know-how of UEFA and its member associations outside of Europe." The program consists of four pillars: Capacity Building, Development of Youth Football, Infrastructure, and UEFA Member Association Support. The construction of the new maintenance compound, as well as the purchase of the new mule for maintenance operations, was part of a grant awarded to GFA under UEFA Assist's Infrastructure pillar.

In addition to funds to construct the maintenance compound, GFA also is working in partnership with UEFA for Referee Development and Operations under its Capacity Building pillar as part of a second grant. The second grant will focus on three main objectives: the development of Referee Regulations, a Referee National Education Plan, and Referee National Training and Development Program.

SMART plans have been devised for each objective and a former FIFA referee from Portugal, Vitor Melo Pereira, has been paired with GFA as a mentor for six months. Pereira will assist GFA's Referees Department in realizing the objectives. Pereira officiated in both the 1998 and the 2002 FIFA World Cup tournaments.

Guam Football Association recently inaugurated its new Maintenance Compound with a ribbon cutting event Friday afternoon at the GFA National Training Center. The new Maintenance Compound was funded by a grant from UEFA Assist and AFC. In the photo are, from left to right, National Team Manager Julius "JR" Campos, Women's Football Development Officer Kimberly Sherman, Assistant Technical Director Ross Awa, Technical Director Sang Hoon Kim, President Valentino San Gil, Executive Director Cheri Stewart, Executive Secretary Gianna Tenorio, and Technical Administrator Chyna Ramirez.