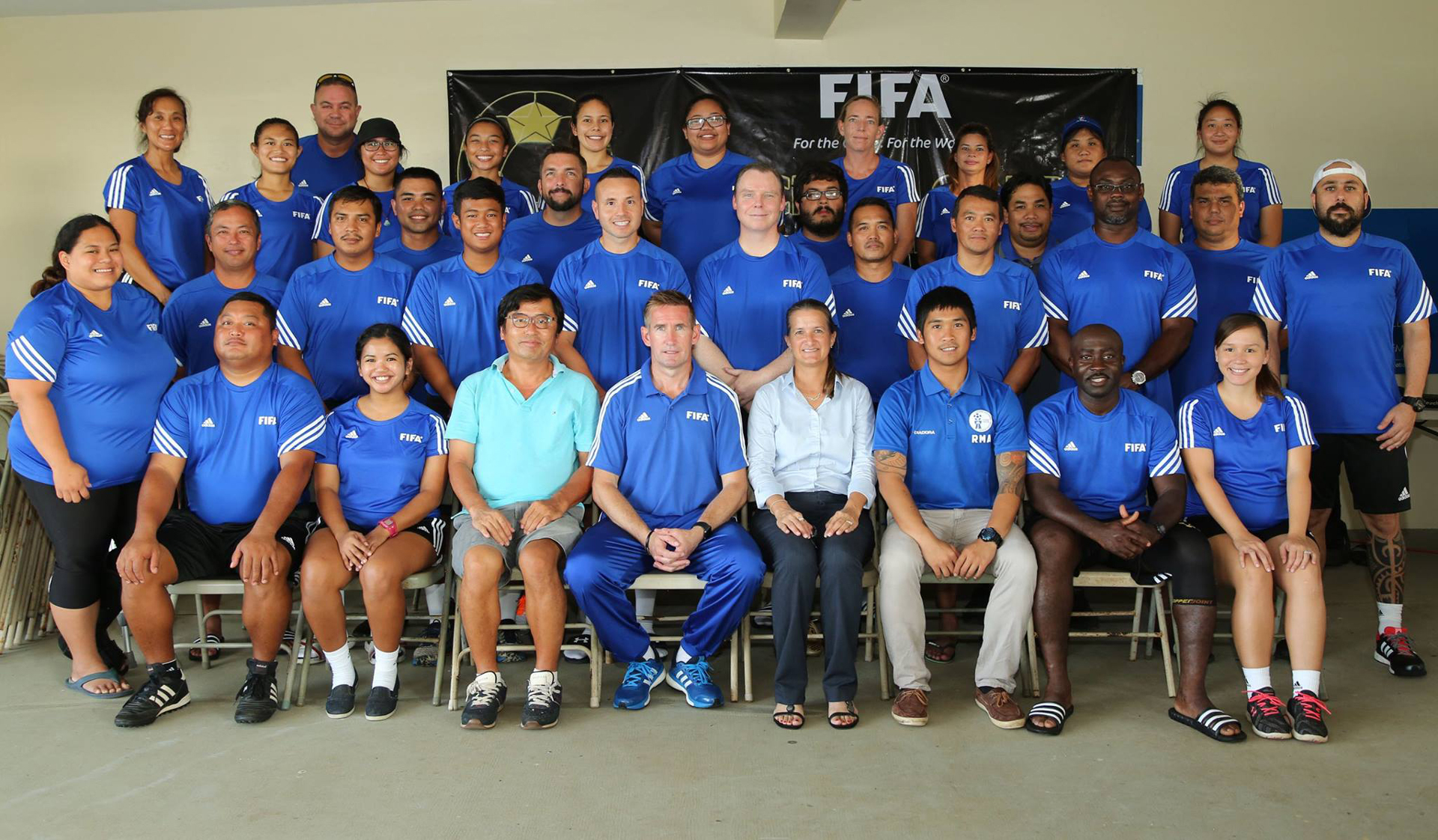 21 Mar

Coaches complete FIFA course for elite youth development

[August 2, 2016 – Harmon, Guam] Over two dozen youth football coaches recently completed a week-long FIFA Coaching Course at Guam Football Association with the intent to prepare them for elite level youth football development.

Visiting FIFA instructor Jamie Houchen, from England, facilitated the course which concluded July 30.

"The purpose and main objectives of this course are really to help the coaches establish ways of coaching, concentrating really on who they are, what they stand for and their own team philosophy, how they want to play the game, how they support the future of players of Guam within their own clubs and within the national identity already put together, and also how (the coaches) will support the players or the coaching process," Houchen said during the course.

"The appetite for football, whether its grassroots or elite level, seems to be in abundance, with the population involved here at the GFA."

During the course, coaches participated in classroom sessions, group activities, practical sessions on the pitch among themselves and with youth national players. The course was primarily to assist coaches for the upcoming Aloha Maid Minetgot Cup, an elite youth league with top club teams at the U12, U14, and U17 age divisions that will run concurrently with the Triple J Auto Group Robbie Webber Youth Soccer League.

"I had gone through the GFA "D" License course, the FIFA Women's Coaching Course, and with this course, it was another opportunity to learn more and be involved because of my passion for football," said Peter Toves, a coach with the Guam Shipyard Wolverines. "My favorite part of the course was learning about the planning, performing and evaluating part of the game, as well as the social aspect of the game. Dealing with the young kids, we need to make it very important socially so they can adapt well as they get older … There's 30 different thinking levels (among course participants) – it's great to (gain feedback) from others and just add to your coaching toolbox."

Participants were from various clubs and teams from youth and interscholastic leagues. Some coaches also had elite playing backgrounds, including Cara Walsh, a former women's national team player, who is part of the Notre Dame Royals girls soccer coaching staff. The Royals won the 2016 IIAAG Girls High School Soccer League championship in May.

"To be real honest, I joined the course because I had the time to do it and I though it would be really useful for me," Walsh said. "The biggest thing I've learned that I'll definitely use is the idea of 'less coaching' in terms of less talking – the idea to let players solve problems on their own instead of stopping play all the time to tell them what to do and what their mistakes were. It's to let them play, step back and observe and see if they can figure it out, nurture their critical thinking skills. Like (Houchen) said, when the game comes around, you won't be there to stop the game to coach them and they'll have to be able to think on their own, think on their feet during the game."

Coaches received certificates of attendance from FIFA during a closing ceremony on Saturday. GFA General Secretary Tino San Gil and GFA Executive Committee member Kun Ho Rhee also attended to give closing remarks and to present Houchen a plaque of appreciation for his efforts in assisting Guam's coaches through the course.

To prepare for the upcoming Aloha Maid Youth Minetgot Cup, an elite leagues for top youth club teams, GFA has coordinated a FIFA Referees Course slated to begin August 29. Before then, qualified coaches also will have the opportunity to earn the AFC "C" Coaching License in a two-week course beginning August 12.

For more information about upcoming courses and the elite youth league, contact the GFA Main Office at 637-4321.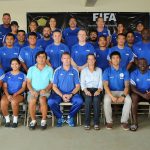 Coaches in the FIFA Coaching Course with visiting FIFA Instructor Jamie Houchen from England pose for a group photo at the start of the course. Seated, left to right: Walter Benavente, Krystiana Martinez, GFA Executive Committee Member Kun Ho Rhee, FIFA Instructor Jamie Houchen, GFA Executive Director Cheri Stewart, Ross Awa, Yaw Antwi-Agyei, and Alexis Aguon. Second row from left to right, Leilani Garcia, Peter Toves, Jose Ramirez, Gerard Aguon, Keleko Fejeran, Jared Baldwin, Harold Sanchez, Gary Larkin, Thomas Castro, James Pangindian, Jason Pangindian, Junard Cruz, Chima Mbakwem, Robert Becker, and Vinicius Rodrigues. Back row, elevated, from left to right, Kyung Shipman, Koharu Minato, David Miles, Jena Cruz, Skyylerblu Johnson, Anjelica Perez, Kyla Aquino, Caralyn Walsh, Romana Taitingfong, Catherine Halili, and Alexandra Chan.