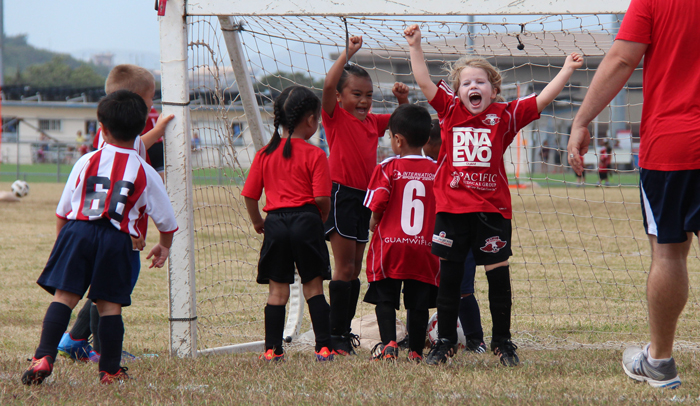 15 Jan

Close to 150 Teams Play in Youth Soccer Opener

[February 22, 2015 – Harmon, Guam] Goals weren't scarce in opening week matches of the Triple J Auto Group Robbie Webber Youth Soccer League played by close to 150 teams at the Guam Football Association National Training Center.

"I was excited to play again in the youth league," said 11-year-old Daneeka Ungacta of the ASC Trust Islanders Betde. "Even though we didn't win today, scoring a goal for my team felt amazing – it was the first time I ever scored a goal in the first game of the season."

On another U12 field, 10-year-old Zion Quitugua of the Strykers FC found several opportunities to score and finished most of them. Quitugua played up an age division last season with the Strykers U12B team in a 9-A-Side format with the offside rule in effect. This season, the U12 division is played in a 7-A-Side format without the offside rule and on a smaller-sized field, particularly for those transitioning up from last year's U10 division.

"This season's format is very different from last season's, but it's also easier to score goals now," said Quitugua. "I like that we're playing in the U12A division this season – we get to challenge other teams that already have been playing in the U12A division and see if we can play well against them."

Quitugua, who also has been part of the United Airlines GFA National Academy since 2012, hopes to do well in this week's tryout for selection to the program.

In Saturday's first set of U12A matches, the Guam Shipyard Wolverines defeated the Islanders Betde, Orange Crushers defeated Tsunami, and the Strykers defeated the Tigers. In other matches, Wings Red defeated Community First Dededo Soccer Club 5-0 with two goals each from Justin Joseph and Taiyo Kanekatsu. Andrew Choi also scored for Wings Red. The Islanders Asut edged Wings Black 2-1 with goals from Daniel Glasscock and E.J. Sablan. Sergio Vavra scored for the Wings Black.

In the U14 division, the Strykers defeated the Islanders Betde 3-2 with two goals from Joshua Calvo and one from Micah Hennegan. Jenna Han and Donovan Ybanez scored for the Islanders. The Sidekick SC slipped past the Southern Cobras 1-0 with a goal from Adryan Lujan. The Tigers defeated the Islanders Asut 4-0 with a hat trick from Seung Min Kim and one goal from Chris Fernandez. Chloe Salas, Shaun Paul Martinez, Michael Lee, Hannah Cruz, Luke Reyes and Nikolai Champaco all contributed in the Wolverines' 7-0 win over Dededo. Wings Red defeated the Islanders Apaka in the late match.

In the U17A division, the Islanders Betde edged Quality Distributors Red 3-2 with goals from Mike Mira, Leon Bamba and a Quality own goal. James Jeong and Tara Usita-Lee scored for Quality. Wings Black defeated Sidekick SC 8-0 with a hat trick from Tyler Presto, two from Takumi Ito, and one each from Takumi Kishi, Sena Morimoto, and Yae Kawauchi. Jordan Jasmin finished with a hat trick and teammate Ricky Katsumata also scored in the Wings Red's 4-0 victory over the Strykers. The Islanders Asut defeated the Cobras 4-1 with goals from Kennedy Macatuno, Aaron Roque, Rai Santos, and Andrew Gonzalez. Francisco Aquiningoc scored for the Cobras.

Before the opening whistle of the first youth league matches, a moment of silence was held in honor of Siegfried "Dove" Mortera, a coach with the Orange Crushers, who had passed away recently.

The Guam Shipyard Wolverines' Chloe Salas sends a shot to the goal ahead of the defense of Community First Dededo Soccer Club's Joey Green in a U14 division match of the Triple J Auto Group Robbie Webber Youth Soccer League at the Guam Football Association National Training Center. The Wolverines won 7-0.