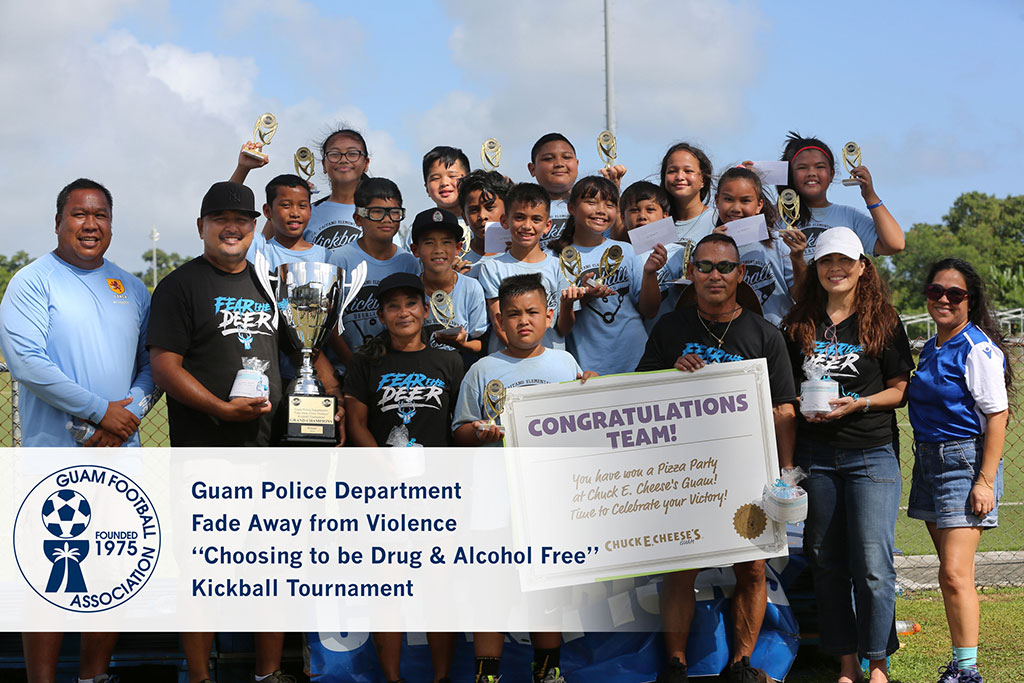 15 Dec

Cl Taitano Elementary Win 2nd Straight Kickball Title

[December 15, 2019 – Harmon, Guam] "Fear the Deer!"

The C.L. Taitano Elementary School Deerlings captured their second straight Guam Police Department's Fade Away from Violence "Choosing to be Drug & Alcohol Free" Kickball Tournament championship title with a 4-1 victory over B.P. Carbullido Elementary School Kokos Saturday at the Guam Football Association National Training Center.

Over 400 students from 21 participating elementary schools competed in the two-day tournament, which commenced Dec. 7 at GFA with an opening ceremony featuring special guests including the Hon. Lou Leon Guerrero, Governor of Guam.

Playoffs and the championship match were contested Dec. 14.

The tournament is presented by the Guam Police Department, Guam Department of Education, Mañe'lu Foundation and Micronesia Resource Center One Stop Shop.

Local business supporters include: The Guam Daily Post, Sky Zone, Tango Theaters, Wendy's, Chuck E. Cheese's, Guahan Waste Control, Total Chemical, Jamaican Grill, SPPC/76, Sugar Hut and GFA.