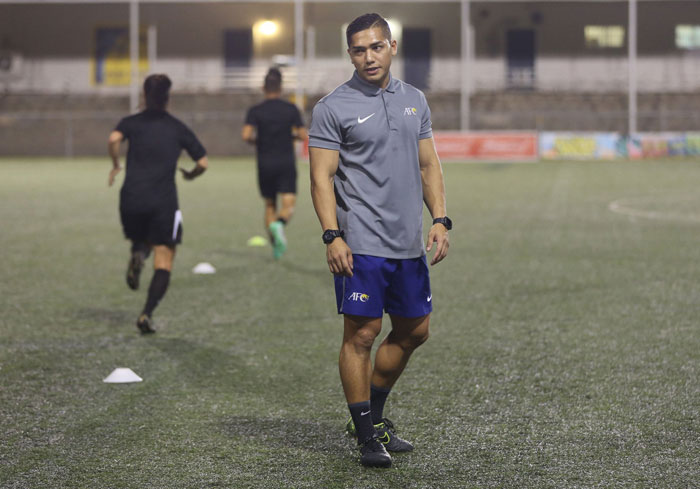 21 Mar

Chargualaf finishes course, earns AFC B Coaching Certificate

[January 25, 2019 – Harmon, Guam] National football coach Mark Chargualaf joins Guam's growing number of AFC "B" License coaches, obtaining the coveted certificate after completing course requirements in 2018.

"When I was notified of the results of the course, the first feeling I had was that of relief," Chargualaf said. "The couple of months after I completed the course, I had been patiently waiting for updates, especially whether I had passed or not. To finally get the news I had passed and to receive my certificate was a big relief – I am very happy and proud of my experiences in the course.

"The game and the trends of the game are always changing so that is why continuing coach education is so important. There are always new tactics and new philosophies that are being introduced. There are also improvements in football technology that coaches must be aware of – all of these components of the sport are vital for athletes to continue competing at high levels," Chargualaf added.

Chargualaf was enrolled in an AFC "B" Certificate course in the Philippines, with the first part from July 17 to July 27 in 2017 in Manila. The second part of the course was held in March 2018 in Carmona, Cavite. Chargualaf received his certificate in November last year.

"I really hope that coaching takes me to new heights in terms of teams that I can potentially be a part of – whether it is here in Guam helping with youth national teams and clubs, or who knows, a professional club abroad," Chargualaf said. "I am open to new opportunities, and wherever I can be of some help or influence, I would like to get involved. The immediate next steps for me are to continue coaching here with the United Airlines GFA Center of Excellence and with youth national teams, as well as to continue with specialized roles more specifically in the strength and fitness side of football."

As detailed in Guam Football Association's Strategic Plan 2017-2020, Guam only has eight active AFC "B" Licensed coaches, seven of whom are male coaches, before Chargualaf earned his certificate last year. Chargualaf enrolled in the AFC "B" Coaching Course after earning his AFC "C" Coaching Certificate in 2012.

"Coaching is a profession that requires continuous education, as game trends constantly change," said Belinda Wilson, GFA Technical Director. "I congratulate Mark on his most recent achievement and look forward to tracking his further progress in Guam's elite coaching pathway. His dedication to the profession will help raise the profile of the sport in Guam and around the world."

Guam's growing database of active, licensed coaches is set to increase with the completion of an AFC "B" Certificate Course at GFA on Jan. 25. Close to a couple dozen coaches took part in the first block of the course in August last year and returned to the classroom and pitch last week for the course's second block with visiting AFC instructor Yusuke Adachi and assistant instructor Kazunori Ohara. AFC will notify GFA of the course participants' examination grades and outcome of practical session assessments after results are submitted by course instructors.

To view GFA's Strategic Plan 2017-2020, visit https://guamfa.com/contact-us/finance-and-governance/official-documents/ and scroll down to the listing under GFA.

To view information on upcoming GFA coaching courses, visit https://guamfa.com/education/coaches/.

Mark Chargualaf poses for a photo with his AFC "B" Coaching Certificate earned in 2018 at the Guam Football Association National Training Center. Chargualaf enrolled in an AFC "B" Coaching Course in the Philippines, completing the first block in 2017 and the final block in March 2018. He successfully passed the course and officially received his certificate from AFC in November 2018.