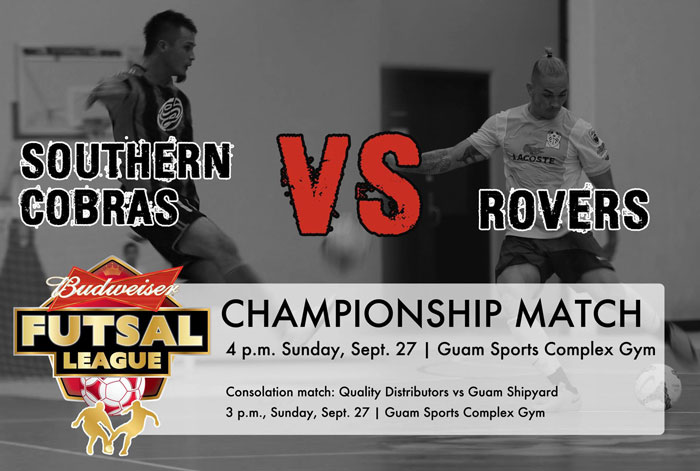 27 Dec

Budweiser Men's Futsal Championship Moved to Sept. 27

[September 20, 2015 – Harmon, Guam] – Due to weather affecting the playing surface at the Guam Sports Complex Gym, the Budweiser Men's Futsal League championship and consolation matches have been moved to Sunday, Sept. 27 – the Southern Cobras vs Rovers championship match is scheduled for 4 p.m. The consolation match between Guam Shipyard and Quality Distributors will kick off at 3 p.m.

The defending champions Rovers finished first in the league with a 6-1 record, dropping its lone match to Guam Shipyard. The Cobras finished in second place with a 5-2 record and a +32 goal differential, finishing above Quality Distributors (5-2) with a +24 goal differential and Guam Shipyard (5-2) with a +13 goal differential. Only the top four teams moved on to the playoffs.

In the Rovers' previous meeting with the Cobras, the No. 1-ranked team won 11-8.

In the Golden Boot race, the Cobras' Ashton Surber claimed top honors with 29 goals in six matches. Last year's Golden Boot winner, Ian Mariano, settled for second place in the race with 19 goals scored in three matches.