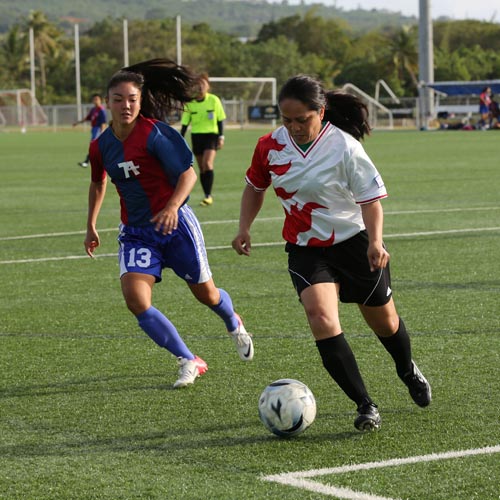 20 Nov

Bud Light Women's Soccer League Opening Day Results

A successful penalty kick from Guam Shipyard's Demi-Rae Shimizu in the closing minutes of her team's match against the Doosan Lady Crushers foiled the debut of Skyylerblu Johnson and Colleen Naden, who scored a brace and a goal, respectively, in the Bud Light Women's Soccer League opener at the Guam Football Association's newly constructed upper turf pitch.

Guam Shipyard struck first in the first half against the Lady Crushers, who were starting with only nine players. Shipyard striker Jodell Cruz found Lady Crushers goalkeeper Brandi Potter outside of her box and chipped her shot in to give her team a quick 1-0 lead.

Minutes later, Johnson opened scoring for the Lady Crushers hammering in her shot off of teammate Andrea Odell's pass across the goal. The 14-year-old Johnson displayed her bravery in the box moments later, fighting with a band of defenders to finally find her shot to give her team a 2-1 lead. Later in the half, Shipyard's Erica Quichocho sent a through-pass to Cruz, who arguably beat the offside trap to send in the game equalizer before the halftime whistle.

Naden, Johnson's Mini-Masakada teammate, broke the 2-2 draw in the deciding half, battling against a handful of defenders in the box and eventually sending a low, hard shot past Shipyard keeper Jamie Soriano.

Despite leading 3-2 for most of the half, a blatant handball was called on the Lady Crushers in the box, which also prompted a yellow card from center referee Cara Canto, setting up a penalty kick opportunity for Shipyard. Shimizu sent her shot to the upper right post for the game-tying score. The Crushers couldn't find an answer after the shot, settling for the 3-3 draw.

In other women's league matches, Quality Distributors found their stride in the second half, scoring three goals en route to a 3-1 victory over the dck Masters. Nieves Cabreza, Paris "Mames" Blas, and Tianna Sakaba scored for Quality. Martina Duenas scored the Masters' lone goal.

Hyundai started its season with a 7-1 win over new team University of Guam Tritons. Arisa Recella finished with a hat trick and teammate Shana Spindel knocked in two goals. Tianna Piper and Jesslyn Jackson also scored for Hyundai. Simie Willter scored UOG's lone goal.

The Paintco Lady Strykers blanked Pika Soccer Club 5-0 to begin their 11-A-Side season. Krystiana Martinez finished with two goals and teammates Mia Santos, Alexy Barbe and Hannah Tyquiengco each scored once.

Before each of the games, a moment of silence was observed for Kiara Sanchez, a former Quality Distributors lady booter, who recently passed away in California. Each team's starters and match officials stood on the pitch's center circle before the start of each match.

Based on match statistics, several youth soccer and interscholastic league female standouts made a smooth transition into the women's league in the season's opening day. Out of the 17 goal scorers on opening day, five – Johnson, Naden, Tyquiengco, Blas and Sakaba – were playing for the first time in the women's league.

Women's league action continues Sunday with the Masters taking on Hyundai at 3:30 p.m. at the GFA lower field, followed by a trio of matches on the upper turf pitch beginning at 4 p.m. Pika takes on Quality at 4 p.m., UOG faces Shipyard at 6 p.m. and the Lady Strykers play in the late 8 p.m. game against the Lady Crushers. There is no admission fee to watch the matches.