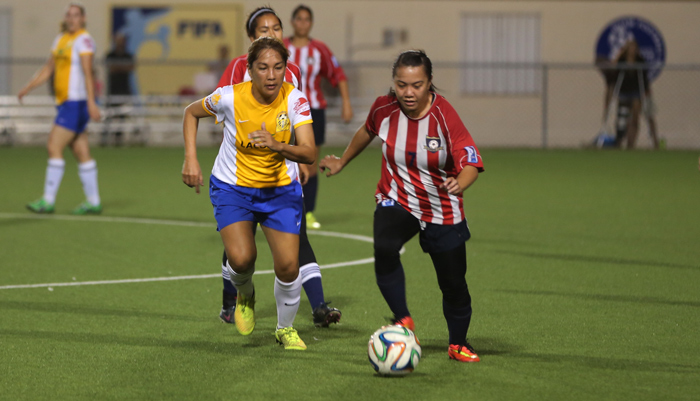 26 Nov

Bud Light Women's League Round 2 Match Schedule Revised

[March 15, 2015 – Harmon, Guam] – Due to March 15 cancellations of league matches at the Guam Football National Training Center to prepare for Tropical Storm Bavi, Round 2 of the Bud Light Women's Soccer League will begin March 22.

A new schedule has been posted online at http://www.guamfa.com/all-leagues-womens-regular-results for viewing and download.

The new schedule will start with originally scheduled Week 9 matches for March 22. March 15 matches have been moved to the end of the season, scheduled to be contested May 10 instead.

Despite leading the Bud Light Women's Soccer League Spring season in wins with five and boasting no losses going into the final match of Round 1, the Lady Rovers underestimated the Lady Strykers, struggling to finish shots in the contest's scoreless draw. The two teams, at opposite ends of the league standings table, created several chances to score throughout the match but were unable to find the finishing piece.

The No. 2 Doosan Lady Crushers bounced back from its Week 6 loss to the Lady Rovers and defeated Guam Shipyard 5-1. Skyylerblu Johnson scored twice in the contest and teammates Maria Abbey Iriarte, Caylani Estoy, and Simie Willter each scored once for the winning team. Erica Quichocho scored for Shipyard.

In Week 7's earlier match, Quality Distributors defeated Southern Heat 5-0 with two goals from Zoe Surber and one each from April Talledo, Vanessa Quinata, and Jodie Barnhouse.

After all Round 1 matches, April Talledo leads the Golden Boot race and Quality Distributors with 14 goals in six matches, followed by teammate Zoe Surber with 9 in six matches.

Shana Spindel and Simie Willter both lead their respective teams, Hyundai and Doosan Lady Crushers, with six goals in six matches.

Kayla Bero leads the Lady Rovers with five goals in six matches.

Erica Quichocho leads Guam Shipyard with three goals in six matches and Clarissa Albalos leads Southern Heat with two goals in six matches.

Yae Kawauchi leads the Lady Strykers with two goals in six matches.