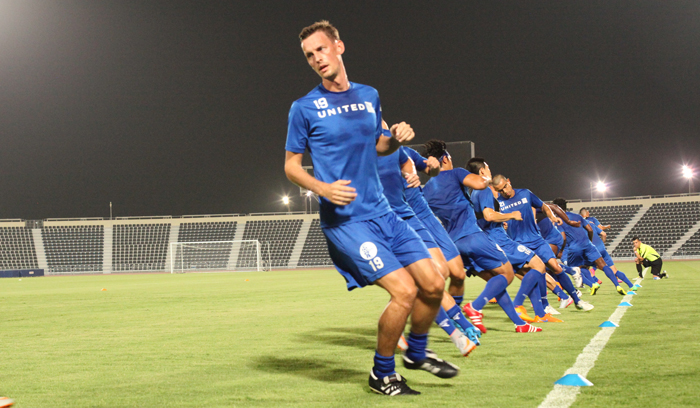 08 Mar

Birthday celebration, light session for Matao in Qatar

[October 8, 2015 – Doha, Qatar] For the Matao, Wednesday was a day of both hard work and a little celebration.

One of the side's longest-serving members, striker Ian Mariano, turned 25 and the whole squad made sure they marked the occasion with a hearty rendition of 'Happy Birthday' and some chocolate cake – which the bulk of the playing group stayed well clear of.

Earlier in the day the team had the opportunity to visit some local sights in the Qatari capital before they were put through their most taxing training session thus far.

At the beginning of the session the side's Head of Sports Science, Andrew Young, led a fitness testing session known as the 30/15 which gives a gauge of just where each player is at in terms of their conditioning.

Then the players went through an hour-long practice where the focus was on being both comfortable in possession and playing out from the back with confidence.

Head coach, Gary White, said it was another positive day's work ahead of next week's crunch World Cup qualification match with Turkmenistan in Ashgabat.

"It was a very dynamic session, the players' attitude was first class and there are clear signs that this group of players is as hungry as ever to continue the success of the Matao in this FIFA World Cup qualification," White said. "Players are focused, staff are excited and expectation is high."

The squad will continue their preparation with another evening session at the Al Wakrah stadium tomorrow before watching Qatar play China in another World Cup qualifier.