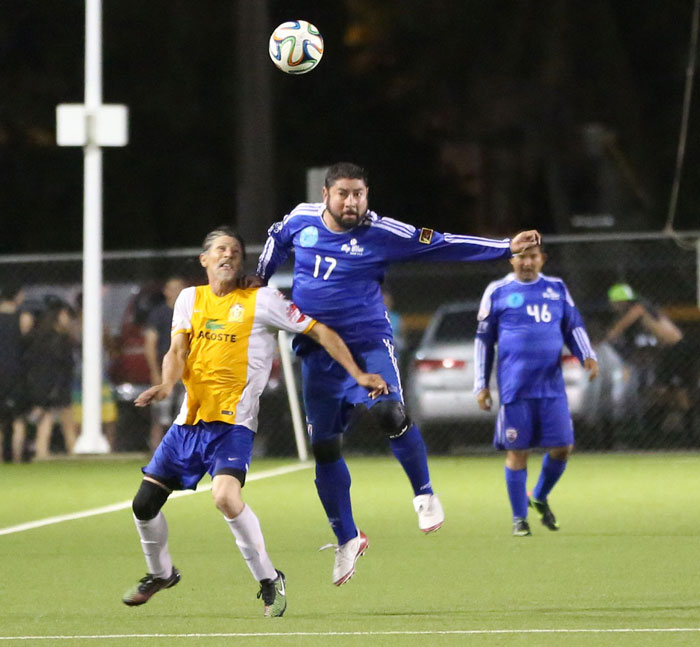 14 Dec

Big Blue Masters, Beercelona Qualify for GFA Cup Main Draw

[April 18, 2015 – Harmon, Guam] – The Big Blue Masters needed extra time to stave off the Rovers Masters to advance to the main draw of the Bank of Guam 8th Annual GFA Cup in the tournament's opening night at the Guam Football Association National Training Center.

A game-tying goal from Rovers Masters' Ramsey Chichakli in the 88th minute – his second of the night – sent the match into extra time, where Big Blue came out on top with the eventual game-winning goal from Roy Abril 10 minutes into the first half of extra time.

Pepito Bedia, Jr. scored twice for Big Blue Masters and Noel Casilao also scored for the winning team. Atsushi Yamamuro scored the Rovers Masters' other goal.

The Big Blue Masters advance to the tournament's main draw with a May 1 fixture against Division I's Southern Cobras at 9 p.m.

Also advancing to the main draw is FC Beercelona after recording a forfeit victory over Big Blue DII. FC Beercelona will next face Division I's Guam Shipyard on May 1 at 7 p.m.

GFA Cup preliminary round action continues Monday at 9 p.m. with IT&E taking on Shinko Siheky at 9 p.m.