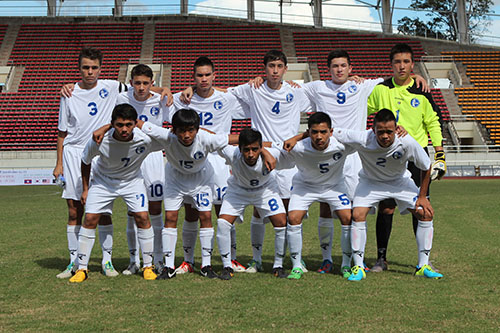 13 Mar

Benito scores for Guam in U16 tournament opener

Guam's Michael "Jake" Benito equalized the match against Brunei-Darussalam in the 27th minute, but the team dropped its opening match at the AFC U16 Championship Group H qualifier in Vientiane, Laos.

Ten minutes after Benito's goal, Brunei-Darussalam's Muhamad Syahmi bin Rashid scored his first goal of the tournament and later his second for the halftime whistle as Guam's opponents jumped to a 3-1 lead. Team Guam settled down in the second half frustrating its opponent, but the Brunei-Darussalam forward later completed his hat trick, scoring the lone goal in the second half.

Head coach Dominic Gadia played goalkeeper Sean Evans, defenders Napu Topasna, Shane Healy, Christopher Cawili, and Jasen Guzman, midfielders Joshua Lujan, Shashikant Kotwal and Ethan Lamberton, and forwards Jestin Escobar, Leon Bamba and Benito as Guam's starting eleven. Healy commanded the team as captain. Cameron Miles, John Anthony Cruz, and Kyle Perez also saw playing time in the team's tournament opener.

Guam next plays Korea Republic Monday at 6 p.m. Laos time (9 p.m. Guam time). The team also is set to face the host country and Malaysia before departing Laos at the end of the month.