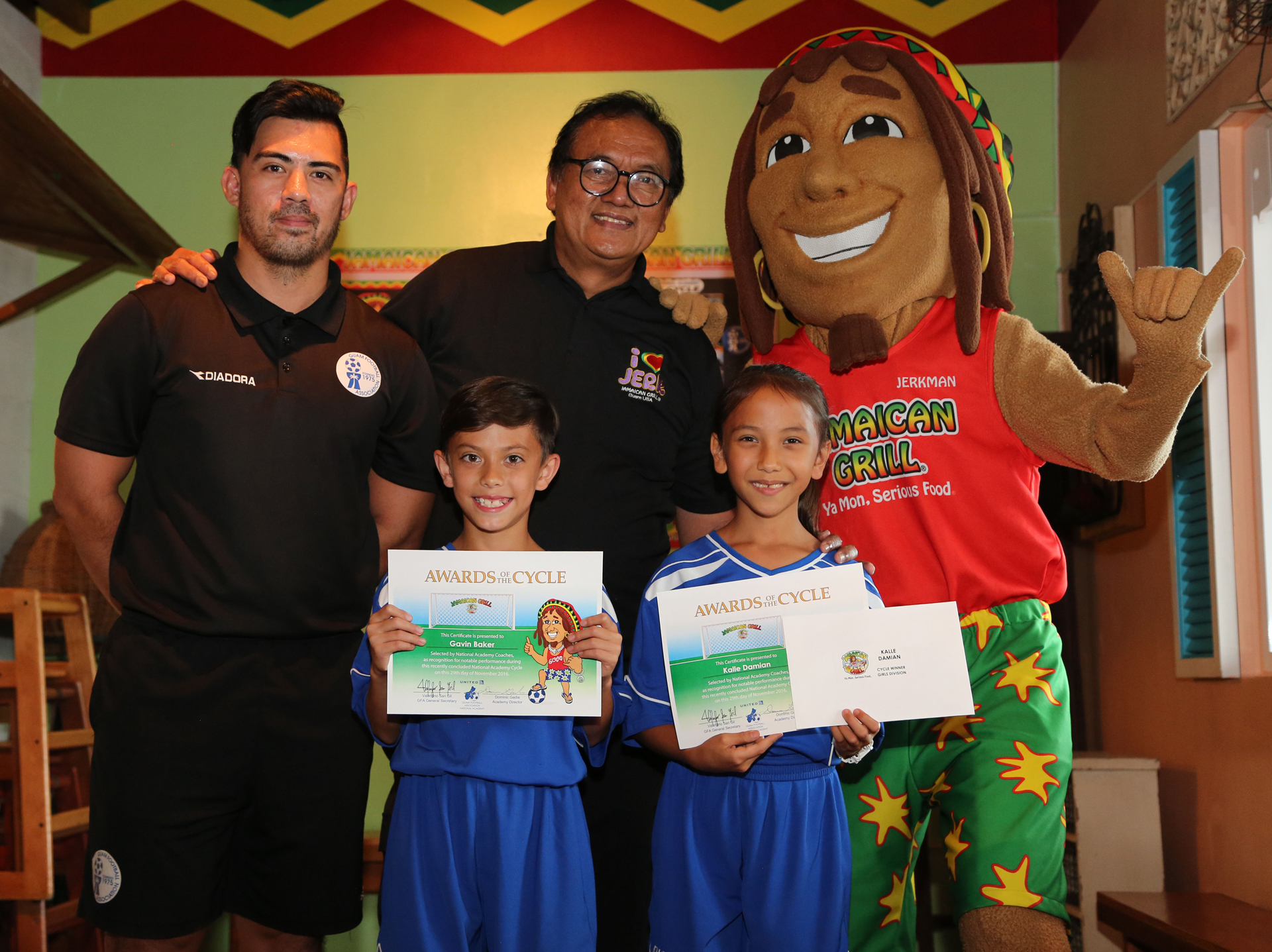 04 Mar

Baker, Damian, Besagar recognized with Academy honors

[December 2, 2016 – Harmon, Guam] Gavin Baker, Kalle Damian, and Ashley Besagar were recently recognized by United Airlines Guam Football Association National Academy directors as Players and Coach of the Cycle, respectively, for the program's final cycle of 2016 with awards presented by Jamaican Grill.

"I've worked with several players in my career as a coach and Gavin is one of those players for whom I have higher aspirations," said Dominic Gadia, Academy Director. "He may be small in stature, but in this sport, technique and creativity triumph over physique. Gavin has so much skill that he can get himself out of situations against bigger, faster, and multiple opponents. Players like Gavin have all the potential in the world and I hope that we as coaches can continue to help him develop.

"Gavin is a player you want to see play at the highest level possible and he is amongst a generation of very talented players who will represent Guam well in the future," Gadia added.

Baker currently plays for the Wings FC in the Triple J Auto Group Robbie Webber Youth Soccer League and attends St. Anthony Catholic School.

"Kalle is one of the girls who has massively improved since she's started with the National Academy," said Academy coach Ashley Besagar. "She is a good role model to younger girls in the group and shows respect to all coaches in the program. She clearly strives to do better in each session – she's a hardworking player able to apply tasks and drills practiced during sessions. She is an excellent example of an elite athlete who stays motivated to constantly be better, a true standout."

Damian currently plays for the Sidekick SC in the youth league and attends St. Anthony Catholic School.

Besagar, a former Guam women's national team player, holds an AFC "B" Coaching License and most recently was the head coach of the Mini Masakåda, Guam's U14 Girls national team, in the AFC U14 Girls Regional Championship, held earlier this year in China, P.R. Besagar currently plays for the Bank of Guam Lady Strykers in the Bud Light Women's Soccer League.

The GFA National Academy program, supported in great part by Japan Football Association, recently completed its fifth year, with a certificate presentation ceremony held at GFA on Nov. 23. The program is split into four cycles within one calendar year, with each player annually handpicked by national coaches.

For each of the cycle winners' efforts, Jamaican Grill awarded certificates of achievement as well as dining certificates at the restaurant's Dededo location.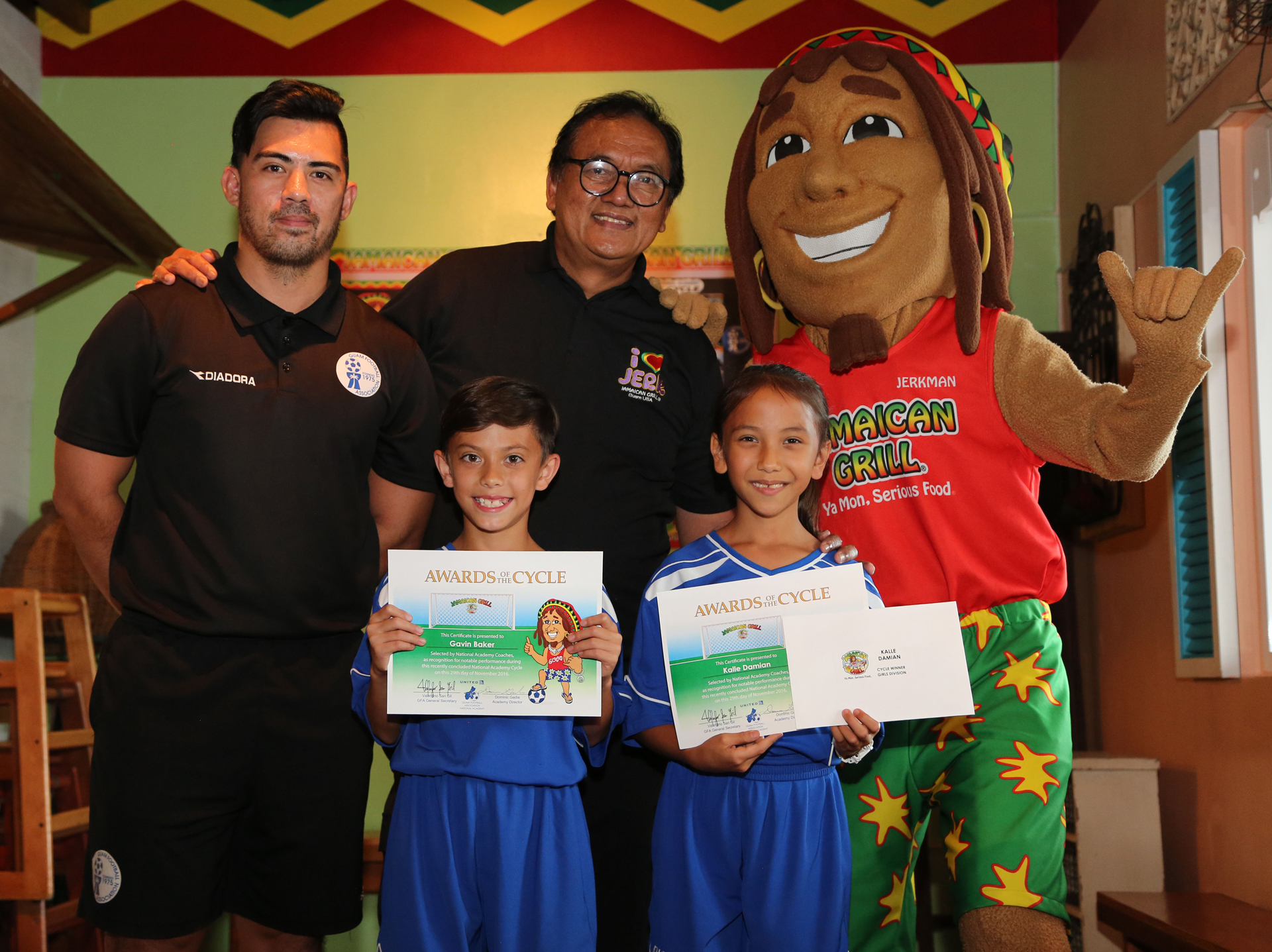 Gavin Baker, Kalle Damian, and coach Ashley Besagar recently were recognized for their excellence and commitment to the United Airlines Guam Football Association National Academy with awards from Jamaican Grill Restaurant during a ceremony at the restaurant's Dededo location on Tuesday. Pictured from left to right in the front row are Baker and Damian. In the back row, from left to right, are Academy Director Dominic Gadia, Jamaican Grill restaurant manager Ray Barnes, and the Jamaican Grill Jerk Man. Not shown in the photo is Besagar.