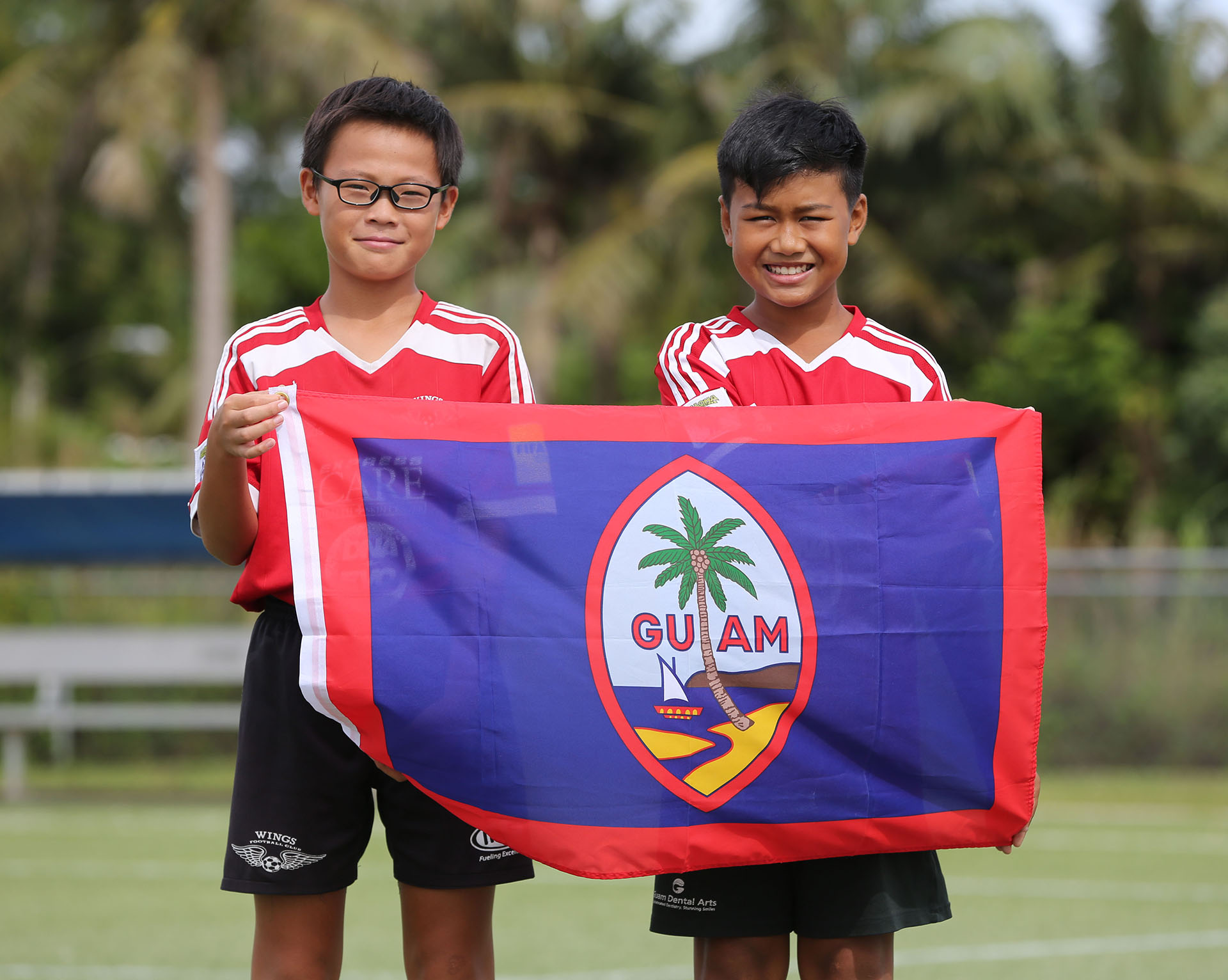 16 Jan

Atsuta, Meyar to Take Part in Youth Event at FIFA World Cup

[June 7, 2018 – Harmon, Guam] Guam's Raito Atsuta and Riku Meyar will be among the multitude of football fans from around the world flocking to Moscow, Russia to witness the 2018 FIFA World Cup.

Atsuta and Meyar will be taking part in Gazprom's Football for Friendship program, an international children's social program spearheaded by the FIFA partner. The pair, the first from Guam to take part in this global program, will be in Moscow for a week engaging with youth representatives from all of FIFA's 211 member nations in various activities, including a trip to Luzhniki Stadium to watch the tournament's opening match between Russia and Saudi Arabia.

"I can't wait to go to Russia, I've been counting down the days," said Atsuta, who plays for the Wings FC in the U13 division of the Aloha Maid Minetgot Cup Elite Youth League. "In addition to soccer, I want to see famous places and things they have there and also to meet people."

Meyar, Atsuta's teammate on the same Wings FC team, is equally as eager to make his way to Moscow.

"I'm so excited because this might be my only opportunity to take part in the program and I'm hoping I can do well in Russia," Meyar said. "Although I'm mostly interested in the soccer matches and all other activities related to soccer, I'm also interested to experience the culture."

This year's program is open to youth born between April 2005 and September 2006. Guam Football Association coaches selected Atsuta and Meyar based on the players' overall performance encompassing talent, motivation, and attitude. The assessment criteria involved high marks in technique, athleticism, leadership, effectiveness, natural pace, team player, individuality, and desire.

GFA coaches scouted players during U13 matches of the Aloha Maid Minetgot Cup Elite Youth League and the United Airlines GFA Center of Excellence. Coaches of U13 teams in the elite league also were invited to nominate three players for consideration.

Meyar was selected as the Young Player (Midfielder) to represent Guam and Atsuta was selected as the Aspiring Journalist/Social Media Expert for Guam. Atsuta's father Kazunori and Meyar's mother Manami will accompany the pair to Moscow. The group leaves Friday morning.

While in Russia, participants also will take part in the Football for Friendship World Championship, among other social activities and seminars.

Guam was drawn into Team King Cobra in Group D of the tournament, with another midfielder from Namibia, a forward from Bhutan, defenders from the Netherlands and Djibouti, and a goalkeeper from Montenegro. The duration for each match is 20 minutes, and teams will also feature young coaches joining the program from different FIFA member nations.

According to the FIFA Web site, "the aim of F4F (Football for Friendship) is to develop youth football by championing youth sport and a healthy lifestyle, as well as by promoting tolerance and friendship among children from different countries. Its key values are friendship, equality, fairness, health, peace, devotion, victory, tradition, and honor."

The program is in its sixth edition and will unite participants from all 211 FIFA member nations for the first time, the FIFA Web site states.

Raito Atsuta, 12, is the son of Kazunori and Miyuki Atsuta and will be an incoming seventh-grader at Harvest Christian Academy. Riku Meyar, 11, is the son of Coleman and Manami Meyar, and will be an incoming seventh-grader at St. Anthony Catholic School.

Follow Atsuta on Instagram to be a part of this incredible summer adventure: @raito_atsuta

Raito Atsuta, left, and Riku Meyar, right, pose for a photo before departing to Moscow, Russia to take part in the sixth Gazprom Football for Friendship Program, held concurrently with opening events of the 2018 FIFA World Cup Russia. The pair are the first from Guam to participate in the international children's social program spearheaded by Gazprom, an official partner of FIFA and the 2018 FIFA World Cup Russia.