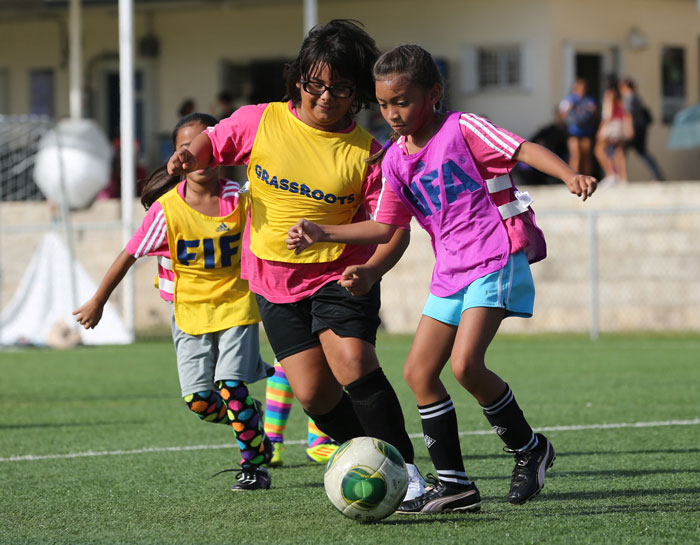 10 Dec

All-Girls League Players Ready for Youth League

It's for the love of the sport that keeps players coming back to play in all available leagues, and the Guam Football Association & The Score's "Just Kick It" All-Girls League is no different.

"I've been playing in the All-Girls and youth leagues since I was in kindergarten – three seasons each," said Maya Camou, an 8-year-old student at Tamuning Elementary School. "For the All-Girls league, I enjoy it a lot because it's fun and I really like playing soccer. The youth league is harder, but I'm still excited to start playing in it next.

"My grandpa and my mom wanted me to join soccer and after I first started playing, I knew I really liked it. I hope more kids join soccer, too," added Camou, who will be in a yellow and blue jersey with one of Community First Dededo Soccer Club teams in the Triple J Auto Group Robbie Webber Youth Soccer League beginning Sept. 13.

In addition to Saturday signaling the final matches of the U8, U10, and U12 divisions of the All-Girls League fall season, the day also was the last of a three-day education course for new referees. The referees had the opportunity to apply their skills and knowledge gained during GFA's Beginner Course at the All-Girls League before moving on to the larger youth league.

"Officiating in the All-Girls league (Saturday) will help them ease into officiating in the youth league – the opportunity helps to relieve the new referees from the initial shock of managing a game in front of hundreds of people," said Simie Willter, course instructor and GFA Referees Admininstrator. "The All-Girls League is more relaxed than the youth league, so the new referees can really focus on what I tell them to focus on during a match.

"Most of the new referees are ready to officiate U10 matches in the youth league. I'm really glad that they're doing this first (officiating in the All-Girls League) it gives them a chance to ask questions on the field and prepare themselves for the larger youth league," Willter added.

For referees already with U10 experience from past seasons of the youth league, Willter will be facilitating a refresher course beginning Tuesday.