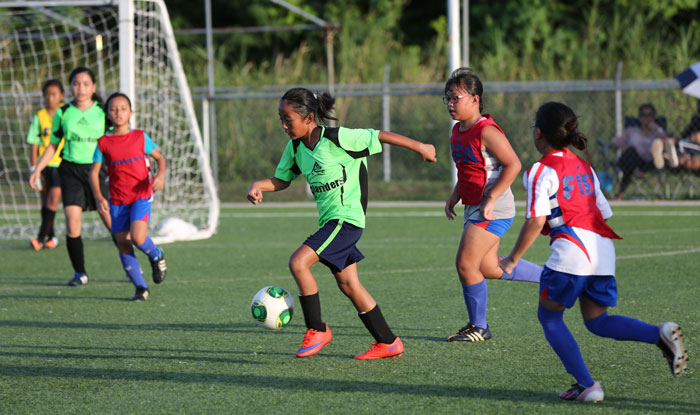 10 Dec

All-Girls League Kicks Off in Five Age Divisions

[September 29, 2015 – Harmon, Guam] – The 2015 Fall season of the Guam Football Association & The Score's "Just Kick It" All-Girls League officially opened Sept. 27 with matches in five age divisions after lightning on halted the league's original opening matches the previous week at the GFA National Training Center.

In the competitive divisions, the Geckos narrowly defeated Community First/Days Inn Dededo Soccer Club 2-1 in the U17 division with goals from Sawyer Park and Kaysha Leon Guerrero. Dededo prevented a Geckos clean sheet on a free kick from Mellanne Rasmussen. Referee Christina Gonzalez deemed the shot a goal after the Geckos goalkeeper handled the ball past the goal line.

In the other U17 division match, Quality Distributors defeated Tumon Typhoons Soccer Club via forfeit.

In the division's Golden Boot race, Park, Leon Guerrero, and Rasmussen are tied with one goal each.

In the U14 division, the ASC Trust Islanders defeated the Southern Cobras with goals from Tiffani Lopez, Abigail San Gil, Kiyoni Yamaguchi, Jenna Han, Jadyn Palomares, and Riley Guzman.

The Guam Shipyard Wolverines won via forfeit over the Tumon Typhoons Soccer Club.

In the division's Golden Boot race, the Islanders Tiffani Lopez leads with four goals, followed by Abigail San Gil with three. Kiyoni Yamaguchi and Jenna Han have two each, followed by Jadyn Palomares and Riley Guzman with one each.

The league continues Sunday.