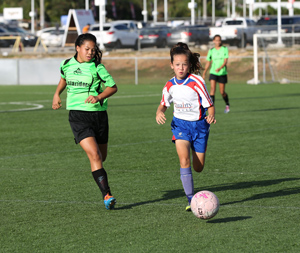 10 Dec

All-Girls Event Promotes Fun

With the final week of the Guam Football Association and The Score's "Just Kick It" All-Girls Event quickly approaching, over 100 girls will have had additional match experience to help them during the Triple J Auto Group Robbie Webber Youth League.

"The All-Girls Event is more about fun and I feel more free (to try different plays)," said 11-year-old Samantha Q. Fegurgur, who plays for Quality Distributors FC – at the U14 division in the youth league and U17 division in the all-girls event. "The youth league is more competitive, and there's more pressure than the All-Girls Event.

"It's good playing in both – I just have to adjust to my different teammates," added the Harvest Christian Academy student.

Fegurgur scored a handful of goals during her team's match against the ASC Trust Islanders. The Cobras and another Islanders team also played a match Sunday in the U17 division.

Before the U17 division teams took center stage at the GFA National Training Center, girls in the U8, U10, and U12 age divisions played festival-style matches, with coaches forming various teams with players regardless of their club.

Though the event will conclude Mar. 2 with its final matches, girls still are invited to join. All girls who attend the event will be placed on a team and gain playing experience. Players need only to present their GFA Youth ID card to play. Different colored vests are provided at the event to distinguish teams. U8, U10, and U12 players have 3 p.m. matches, while the U17 division plays at 4 p.m.

Beginning Mar. 16, GFA will present the second edition of the Soccer Moms League. Particularly for the Soccer Moms League, the GFA Player Card registration fee has been reduced to $35 per player.

After the conclusion of the Soccer Moms League, the first-ever Women's Intermediate Division is set start Apr. 27. All interested players or coaches wanting to form teams in any of the upcoming women's leagues are encouraged to contact Grace Martinez, GFA Women's Administrator by E-mail at [email protected] or by calling the GFA Main Office during business hours at 637-4321.

Quality Distributors' Samantha Q. Fegurgur chases down a through pass to the goal with her ASC Trust Islanders opponent gaining ground behind her during a fun match in the U17 division of Guam Football Association & The Score's "Just Kick It" All-Girls Event at the Guam Football Association National Training Center Sunday.