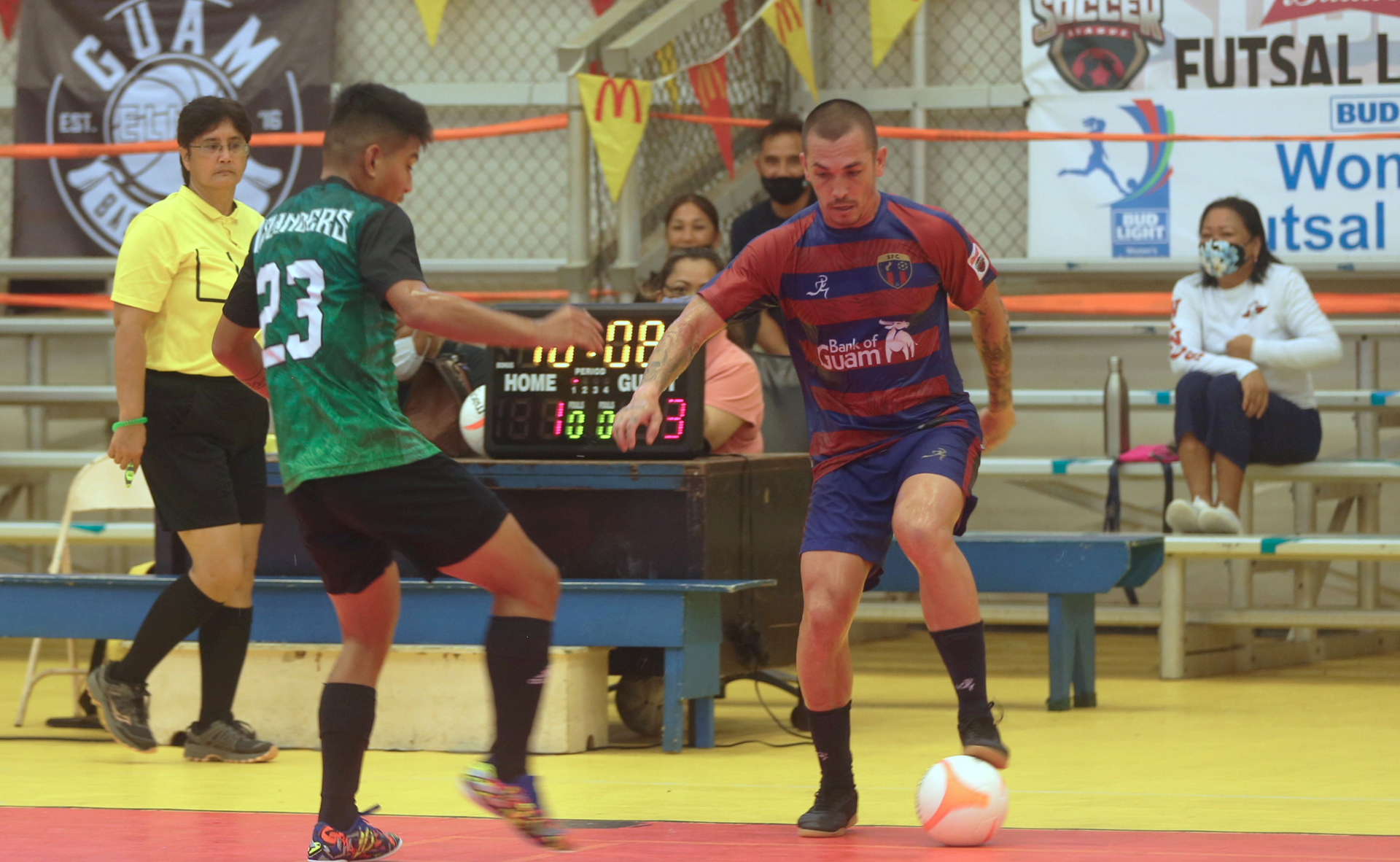 25 Aug

94 goals in five matches scored in Week 9 of Budweiser Futsal

[August 24, 2021 – Harmon, Guam] A total of 94 goals were scored in five matches as the Budweiser Futsal League continued with Week 9 matches over the weekend at the Guam Sports Complex gym.

The highest scoring match featured the Friars Football Club and Haagen Dazs, with the Friars upending its opponent 27-5 Sunday afternoon. Gavin Baker scored seven goals and teammate Daniel Glasscock finished with a double hat trick. Kai Pahl scored four, and teammates Nainoa Norton and Erwin "E.J." Manibusan each finished with a hat trick. Robert Haddock and Nicolas Chargualaf each scored two goals to round out the winning team's goal haul. David John Cruz scored four goals and teammate Steven Flores scored once for Haagen Dazs.

The Bank of Guam Strykers continue undefeated with a 15-5 win over the Islanders FC. Marcus Lopez finished with a double hat trick and teammate Isiah Lagutang scored a hat trick. Jason Cunliffe and Aidan Dickson scored twice each and Jehn Joyner and Peter Santiago each scored once. Noah Duenas and Justin Cruz each scored twice for the Islanders and Inochi Recella scored the team's other goal.

Wings FC picked up a 13-4 win over Team Mosa's led by Scott Spindel's seven goals. Ross Awa and Shawn Spindel scored twice each and tammates Francis Chargualaf and Caleb Barretto also scored. Jason Miller scored twice for Mosa's and teammates Noel Sablan and Lance Chargualaf also scored.

Quality Distributors defeated the Orange Crushers 12-3 led by Takefumi Inoue's hat trick. Alfred Agahan and Ivan Borja each scored twice and Aleksei Ruchkovskii, Juan Mungaray, and Brandon Auayan each scored once. Quality's other two goals were from Crushers own goals. Justin Samonte scored all three of the Crushers' goals.

In Friday evening's lone men's match, the Sidekick SC drew 5-5 with the NAPA Rovers FC. Derrick Cruz and Jeremy Copple each scored twice for the Sidekick SC and Michael Rosario scored the team's other goal. Brandon Walters scored twice for the Rovers and teammates Shaun-Paul Martinez, James Lee, and Devan Mendiola scored the team's other goals.

Currently in the lead for the Budweiser Men's Futsal League 2021 Golden Boot award is the Wings FC's Scott Spindel with 31 goals in seven matches, followed by Bank of Guam Strykers' Marcus Lopez with 22 goals in eight matches. Guam Shipyard's Ashton Surber is third with 19 goals in eight matches.

The Budweiser Men's Futsal League will be suspended until Sept. 10 to allow more players to receive COVID19 vaccinations, following the signing of Executive Order 2021-19 by the Hon. Lou Leon Guerrero.