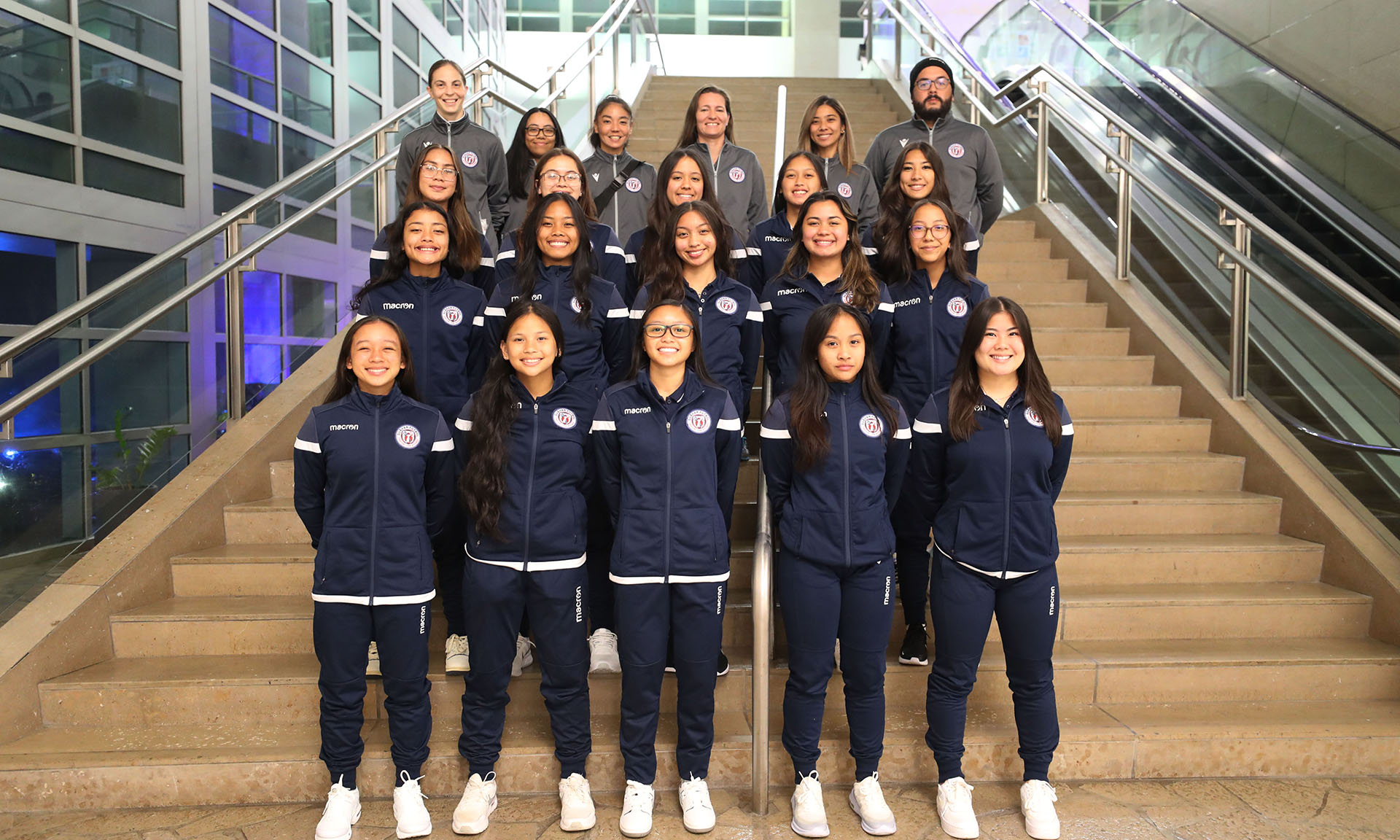 01 Mar

22 called up to Guam U20 Women's National Team for AFC tournament

[March 1, 2023 – Harmon, Guam] Guam's U20 Women's National Team will be tested with high-caliber international football matches at the AFC U20 Women's Asian Cup Uzbekistan 2024™ Qualifiers Round 1 Group C in Bishkek, Kyrgyz Republic beginning Mar. 6.

"This is the highest level our sport offers and we are ready to rise to it and do our best," said Kristin Thompson, Head Coach of the Guam U20 Women's National Team. "As always, we look to grow as we play and learn from every moment on the pitch both as players and coaches. We also seek to bring back lessons we have learned and share them with the whole soccer community.

"The girls have been preparing for this moment for months. They are excited to play two very high level games versus Australia and the host country, Kyrgyz Republic. It is always such a privilege to represent the island and play the sport we love," Thompson added.

Thompson and team coaches called up 22 players to represent Guam at the first round of the continental tournament: Kini Arroyo, Sarah Benavente, Ha'ani Byerly, Maile Chargualaf, Giselle Dahilig, Kalle Damian, Megan Franchino, Jodee Halili, Maya Iriarte, Samantha Kenney, Salora La Rosa, Olivia Leon Guerrero, Yasmeen Lopez, Kaia Malakooti, Cadance Mansapit, Analea Meno, Gabrielle Moser, Myah Polzin, Sophia San Agustin, Dolores San Gil, Lexi Taitague, and Reika Tenorio.

The team will open its bid against Australia Mar. 6 at 8 p.m. Bishkek time (12 midnight +1 day Guam time). Guam will next play against Kyrgyz Republic Mar. 8 at 8 p.m. Bishkek time (12 midnight +1 day Guam time). Both matches will be played at the Dolen Omurzakov Stadium. Live stream links, if available, will be communicated across Guam Football Association's social media platforms.

"We can't thank GFA and all their partners enough for allowing us this life-changing opportunity, as well as to the families and friends of the players who have supported them through this process – we also say a big thank you," Thompson said. "We will strive to represent Guam and GFA well."

Traveling staff are Thompson, Team Manager Ariya Cruz, Assistant Coach Kimberly Sherman, Goalkeeper Coach Thomas Castro, Team Doctor Dr. Heidi Griffiths, Physiotherapist Jessica De Guzman, and Media Officer Ashley Alcantara. GFA Technical Director Ross Awa will join the team in its initial preparations in Bishkek ahead of the tournament.

The delegation from Guam left Wednesday to the Kyrgyz Republic capital.

Group winners will qualify for Round 2 of the tournament, set to be played in June. The final round will be played in March 2024 in Uzbekistan. The top three teams from the tournament will qualify to represent Asia at the 2024 FIFA U20 Women's World Cup.