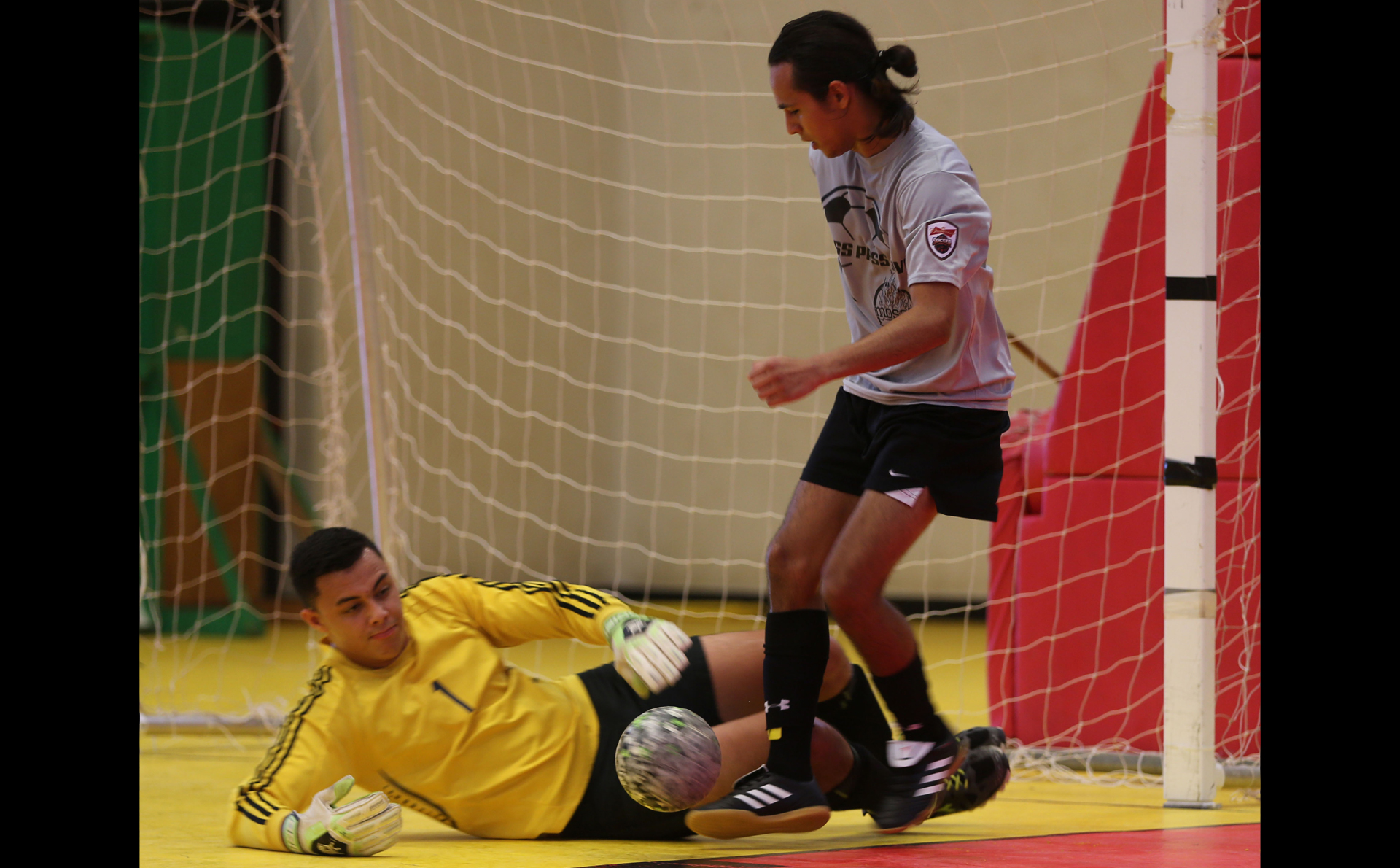 27 Dec

2017 Budweiser Futsal League Opens With Three Matches

[July 23, 2017 – Harmon, Guam] – Newly formed team Mosa's take the early top spot in the 2017 Budweiser Men's Futsal League rankings based on superior goal differential following all opening week matches Sunday at the Guam Sports Complex Gym.

Mosa's started off its season on the right foot with an 11-6 win over the University of Guam Tritons in the day's late game. Matt Robles led all scorers with a double hat trick for Mosa's and teammates Gideon Tyquiengco, Kevin Leasiolagi, Keith Surber and Seth Surber also scored. Mosa's earned its other goal when Tritons' goalkeeper Michael Topasna misjudged a full-court throw by Mosa's second-half goalkeeper Fredrico Nedlic and accidentally fumbled the ball into UOG's goal.

The Tritons were led by Dylan Naputi and Jacques Diambra-Odi, both scoring two goals each. Teammates Joseph Quan and Todd Pangelinan also scored in the contest.

In the closest match of the day, a James Bush header-for-goal for Quality Distributors with a little over four minutes left to play was the eventual game-tying goal, as the Bank of Guam Strykers were forced to settle for a 7-7 draw.

Fook Liao led Quality with a hat trick and teammate RC Salas scored twice in the contest. Quality's other goal came on a Strykers own goal scored a minute into the second half. Hiro Asoshina led the Strykers with a hat trick and teammate Scott Spindel scored twice. Sho Hammond and Takumi Odell scored the Strykers' other goals.

In the day's other match, the Islanders FC brought their 14-man army to take on the Crushers FC and won 6-4. The Islanders' Noah Duenas led all scorers with a hat trick and teammates Jordan Jasmin, Inochi Recella, and Sora Recella also scored. Jonathan Guerrero scored twice for the Crushers and teammates Luther Eisaman and Justin Samonte also scored.

The league's other two teams, Papi FC and NAPA Rovers FC, received byes on opening day and will play their season openers in Week 2. The league's 2016 champions, Guam Shipyard, withdrew from competition before Sunday's opening day matches.

Week 2 play will begin at 5:30 p.m. Sunday at the Guam Sports Complex

Gym following the opening round of Bud Light Women's Futsal League playoffs.

Week 2 matches will feature the Islanders FC taking on UOG at 5:30 p.m. followed by the Strykers against Papi FC at 6:30 p.m. The Crushers will play next against Quality at 7:30 p.m. followed by Mosa's against the NAPA Rovers at 8:30 p.m.

Quality Distributors' Ethan Elwell looks for an opportunity to shoot as Bank of Guam Strykers' Hiro Asoshina (left) and Takumi Odell (No. 58) attempt to stop him on opening day of the 2017 Budweiser Men's Futsal League Sunday afternoon at the Guam Sports Complex gym in Harmon. The Strykers and Quality battled to a 7-7 draw.